'Persona 5' Orpheus DLC: How to get Orpheus and its special Picaro variant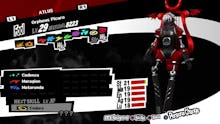 Persona 5 is rife with nods to past Shin Megami Tensei: Persona games, and the slew of downloadable content for the game has no shortage of them either. If you're looking to recruit the Persona Orpheus to your side after enjoying its company in Persona 3, here's how you can summon Orpheus and a special Picaro variant of Orpheus to your side in the Persona 5 DLC. 
Persona 5 Orpheus DLC: How to get Orpheus and the Orpheus Picaro variant
If you're looking to add Orpheus to your gaggle of Personas, you'll want to seek out the Persona 5 Orpheus & Orpheus Picaro Set via the PlayStation Store. It's a piece of DLC that's available right now for $2.99. 
The DLC will unlock Orpheus from Persona 3 to do your bidding in-game. You'll get the original Orpheus design as well as a Picaro variant with unique skills to use in battle. The "Picaro" theme comes from the fact that Persona 5 is a "picaresque" story, or a tale that follows a rough and tumble hero throughout episodic vignettes. You'll also get special fusion items with this DLC set. 
Orpheus was an important part of Persona 3's story, so after you nab the Persona for use in Persona 5, you might consider also playing through Persona 3 for a very unique experience that adds context to your purchase. Unfortunately, at this point, this is the only way to add Orpheus to your menagerie of Personas. For now, you'll have to shell out some cash. 
More Persona 5 news, updates, tips and tricks
For more on the latest entry in the Persona series, check out the rest of what Mic has to offer. Here's a guide on how to capture Personas, and here's one on building relationships with the game's Confidant system.