Chinese theme park builds Titanic replica, ditches iceberg crash experience after outcry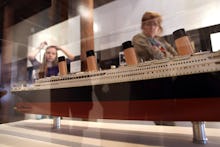 A Chinese theme park is backing away from plans to build a simulated Titanic iceberg crash experience following protests from relatives of those onboard the cruise liner that sank in 1912.
The simulated iceberg crash was meant to coincide with the debut of the park's full-size Titanic replica, which began construction in May 2014. According to the BBC, the controversial experience was first put on notice after the theme park's designer pointed out it may be a bad idea. 
"When they hired me I said, 'No, it would be in poor taste,'" Bruce Beverage, one of the designers, told the BBC. 
The idea was dropped for good after family members spoke out at the annual meeting of the British Titanic Society.
"They are using the Titanic because of the tragedy — it's upsetting," Jean Legg, whose father was a steward on the Titanic, told BBC. "My dad lived to be nearly 90 and the sights and sounds of people fighting for their lives stayed with him to the end of his days. If he knew this was being replicated, I think he'd be turning in his grave."
The project was originally slated to be housed at the Romandisea resort in the Sichuan province of China. 
The replica of the ship will be "respectful" to the over 1,500 people who died in the infamous crash, Shaojun Su, chief executive of Yongle Seven Star Cultural Tourism Development Company, said through a translator, according to the BBC. He noted the history of the ship had "many Chinese fans" following the 1997 film "Titanic" starring Kate Winslet and Leonardo DiCaprio.
The replica is slated to be finished in 2019, just without the terrifying simulated experience of a mass casualty.