Gay "Concentration Camps" in Chechnya: What's real, what's fake and what's exaggerated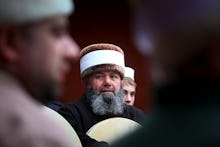 International human rights groups are condemning Russian and Chechen officials over the alleged arrests, torture and murders of men suspected of being gay in Chechnya.
In early April, the Russian newspaper Novaya Gazeta reported the alleged arrests, which came after a gay rights group applied for permission to hold a parade in cities across the North Caucasus.
The abuse allegations are nothing short of horrific, including claims that men are being taken to concentration camps where they are beaten, electrocuted and possibly murdered. However, all of these claims are coming second and third hand, while websites are playing fast and loose with the facts. Below, we break down fact and the fiction.
What we know to be true
What can be categorically confirmed is that Russia is an extremely unfriendly place to the LGBTQ community. In 2013, Russia's parliament unanimously passed a federal law banning gay "propaganda," which included making it illegal to equate straight and gay relationships, introduced fines for individuals and media groups found guilty of spreading gay propaganda and introduced fines for foreigners found guilty.
Chechnya, a federal subject of Russia, appears to be equally unkind to anyone identifying as LGBTQ. In response to the allegations of abuse, Alvi Karimov, a spokesman for Chechnya's leader Ramzan Kadyrov, told the Russian news agency Interfax, "You cannot arrest or repress people who just don't exist in the republic." He added, "If such people existed in Chechnya, law enforcement would not have to worry about them since their own relatives would have sent them to where they could never return."
Even some human rights leaders in Chechnya are unsympathetic to the needs of the LGBTQ community. When asked for her thoughts on the alleged abuse, Kheda Saratova, a member of the Chechen government's human rights council, told the Guardian, "In our Chechen society, any person who respects our traditions and culture will hunt down this kind of person without any help from authorities, and do everything to make sure that this kind of person does not exist in our society."
What we can't confirm
The term "concentration camp" has been used by several news outlets in an effort to describe where these men are being taken. However, Alexander Artemyev, an Amnesty International Russia spokesperson, told Snopes, "We should always be careful about using the language of 'concentration camps,'" and suggested the term "secret detention sites" instead.
Artemyev additionally said, "Men believed to be gay are kept in a former police station (compound) near Argun. These premises consist of several buildings. Among those who are allegedly detained are not only men perceived to be gay, but also suspected sympathizers of the armed group calling itself Islamic State and suspected drug users." He couched this statement by noting that Amnesty International isn't able to independently verify the allegations.
Moreover, Ukrainian journalist Maxim Eristavi, who is out as gay, told NBC News, "Calling it a concentration camp is actually inaccurate. Creating more misinformation can damage and endanger people on the ground and discredit those who are trying to bring more attention to the issue."
How world leaders are responding
The U.S. State Department has called upon Russia to investigate the torture and abuse allegations. In a statement provided to BuzzFeed, the State Department said:
We are aware of troubling reports that local authorities in the Republic of Chechnya have arrested or detained more than 100 men, as well as reports that three of those detained were killed. We condemn violence against any individuals based on their sexual orientation or any other basis. We urge the Russian government to conduct an independent and credible investigation into the alleged killings and mass arrests, and hold the perpetrators responsible. We were likewise deeply disturbed by local authorities' statements that apparently condone and even incite violence against LGBTI persons.
Meanwhile, Dmitry Peskov,  Russian President Vladimir Putin's press secretary, also responded to the reports, saying the alleged victims should file an official complaint, adding, "We do not have such information and it is not a prerogative of the Kremlin. If any actions have been taken by the law enforcement agencies, which, in the opinion of some citizens, were taken with some irregularities, these citizens can use their rights, file relevant complaints and go to court."
Several international organizations, including GLAAD, are calling upon the United Nations to condemn to alleged atrocities. "It is beyond horrific for a country to proactively target, arrest and abuse LGBTQ people," Sarah Kate Ellis, president and CEO of GLAAD, said in a statement. "U.S. Ambassador Nikki Haley must condemn this humanitarian crisis. As the leader of the free world, we can't watch in silence as the world slips back to an era we should never go back to."