James Baldwin's hidden papers have a new home in black America's premier library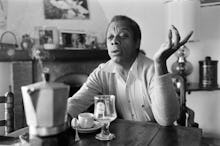 James Baldwin was one of the most prolific writers in black history, but there is plenty about his work that the world still doesn't know.
At the time of his death in 1987, Baldwin had written nearly two dozen works of fiction, nonfiction and poetry, some of which would be published posthumously. But he was also black and gay at a time when both were professionally taboo, so there's a lot about his life that only lives on in his private letters that his family has held onto for three decades.
Some of those letters are now in possession of the Schomburg Center for Research in Black Culture in Harlem, black America's premier library, thanks to Baldwin's estate.
Baldwin has had a resurgence of sorts in recent years thanks to Raoul Peck's documentary I Am Not Your Negro and Baldwin's prominent influence on Ta-Nehisi Coates' best-selling memoir Between the World and Me.
Eight items from the selection will be on display at the museum as part of a pop-up exhibition that runs until Monday. The larger collection includes an unpublished screenplay Baldwin had written about the life of his slain friend, Malcolm X.
In the video below, Samuel L. Jackson, Janelle Monáe, Chris Rock and other celebrities remind everyone why they should "know your Baldwin."