What are the best checking and savings accounts around? These 5 banks pay you most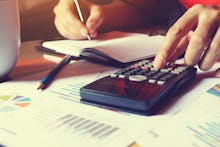 Once your tax refund rolls in, you may be tempted to cash it in and blow it on that sweet pair of boots — or perhaps you want to stash it in a bank account.
The latter is a smart move. Nearly 70% of Americans have less than $1,000 in savings, according to a 2016 GoBankingRates survey. Impulse spending is part of the problem — which a strict budget can help with. For example, Erin Lowry, author of The Broke Millennial, says she learned to save 50% of every paycheck for savings while in college.
But that opens up a question: Where, exactly, should you put any cash you're saving? You'll probably want to earn interest, so your money doesn't sit there losing value to inflation. And if you want your money to be liquid — easy to access in an emergency — you probably shouldn't lock it somewhere with fees for early withdrawals. Your best option: a checking or savings account.
How do you know which one of those is right for you? In two new studies, WalletHub did some of the work for you, comparing 50 popular online-only checking accounts and 480 savings and money market accounts, from 233 banks and credit unions, both online-only and branch-based. WalletHub compared interest rates, ATM fees and other features.
Here are five winning categories, based on WalletHub's report, for bank accounts that pay you, so your savings keep growing — not shrinking.
1. Highest interest-bearing checking account 
Think getting 5% on a checking account sounds like an urban myth? WalletHub found an account that might impress you: Northpointe Bank UltimateAccount. The account has no monthly fee, reimburses you for $10 in out-of-network ATM fees each month, and offers a 5% APY for balances up to $5,000 — and a still-generous 2.54% on balances over $5,000.
Of course there's a catch: In order to receive these features you have to make at least 15 or more debit card purchases totaling at least $500 each month and set up a monthly direct deposit or automatic withdrawal, such as bill payment.
You also have to sign up to receive online statements. The good news — if you don't meet these three requirements during any given month — nothing terrible will happen: Your balance will simply accrue interest at a (far-lower) annual rate of 0.05%.
Although 5% is hard to top, others like Coulee Bank and Ouachita Independent Bank may pay more than 2% or 3%, according to a recent Bankrate ranking. More interest checking options is one upside to a rising rate environment!
2. Best checking account if you hate fees and fine print
Some bank customers are willing to forgo a little interest to simplify their lives — with an account that promises minimal fine print and fees. In this category, Bank of Internet USA X Checking was a top pick for WalletHub, thanks to a lack of monthly maintenance, ATM withdrawal and overdraft fees, WalletHub analyst Jill Gonzalez said in an email: She said the market average overdraft fee is a whopping $32.13, making a no-fee account desirable for anyone whose balance tends to fluctuate. Bank of Internet also reimburses domestic ATM-owner surcharges. 
One caveat? You will need to set up a separate account that you link to checking.
Another pick is the no-fee checking account from Capital One 360. It doesn't charge a monthly fee or fees for ATM withdrawals or foreign-transactions. Account holders receive 0.2% APY on balances up to $50,000. And other fee-free checking accounts to consider include Ally, a NerdWallet pick that pays interest and has no monthly maintenance fees or a minimum balance requirement or Alliant Credit Union's high-rate checking, which has no monthly service charges or minimum balance.
3. Best savings account
Oddly, in recent years it has become increasingly common for top-of-the-line high-yield checking accounts to pay better interest than the best savings accounts — even if savings and money market accounts pay more on average.
Still, savings accounts tend to be simple to manage, with low costs and minimums. Gonzales said savers should consider the Barclays Dream Savings Account, which doesn't have an initial deposit requirement or an ongoing balance requirement, and charges no monthly fees.
You'll earn a 1.05% APY if you deposit up to $1,000 a month, she said, plus a bonus if you make deposits without withdrawals: You get 2.5% on the past half year of interest if you make consecutive deposits for six months — plus another 2.5% on your interest for no withdrawals for six consecutive months.
Another low-fee, interest-bearing savings account to explore is Synchrony Bank's high yield savings — with no minimum balance, monthly fee or minimum deposit requirement. You also earn 1.05%, according to GoBankingRates. 
4. Best account if you like rewards 
Want cash back or travel rewards with your checking account? WalletHub recommends the Bank5 Connect High-Interest Checking Account, which rewards you with 1 point for every $2 that you spend when you choose the signature option for point of sale. This equates to about 0.5% cash back when redeemed for gift cards, travel or merchandise, Gonzalez said. This account also pays a 0.76% APY and charges neither a monthly fee nor an ATM withdrawal fee.
Some banks offer special limited-time cash bonuses, giving away up to $400, according to NerdWallet. Another reward-based account to explore is the Kasasa account, offered at more than 400 community banks and credit unions throughout the country: This is a free account that has cash rewards and ATM refunds. 
5. Best account if you are still in school 
Still in undergrad or getting your masters? Finding an account that maximizes your dough and doesn't cost you is imperative. Students searching for the best possible terms should focus on online-only personal accounts, with the market's highest rates and lowest fees, Gonzalez recommended. In other words, any of the options above would work great for you.
But if you're looking for a branded "student" account, WalletHub picked Beneficial Bank Campus Savings, with an APY of 0.3% to 0.5%, depending on your balance, and no monthly fee or minimum-deposit requirement.
Alternatively, NerdWallet has suggested Aspiration in this category; among other features, it earns interest and reimburses you so you can use any ATM in the world free.
Sign up for The Payoff — your weekly crash course on how to live your best financial life. Additionally, for all your burning money questions, check out Mic's credit, savings, career, investing and health care hubs for more information — that pays off.