Bruce Ward: Why Arkansas man's "conveyer belt" execution may break constitutional law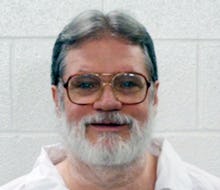 Convicted murderer Bruce Ward is scheduled to be executed on Monday, but odds are he's not fully aware of it, his attorneys argue.
The 60-year-old Arkansas man has displayed signs of mental illness for at least 30 years, according to the Guardian, but that isn't stopping Arkansas executioners who are scheduled to administer to Ward a lethal injection in less than four days, the first in a swift series of seven "conveyor belt" executions that's put a spotlight on the southern state and U.S. capital punishment as a whole.
"At heart here is someone who back in the late 1980s was not competent to stand trial, but never had a fair court process to look at whether he was insane," Ward's current attorney, Joseph Perkovich of the Phillips Black Project told the Guardian. "The question was kicked down the road, and here we are now with him facing imminent execution."
Ward was convicted of murdering 18-year-old gas station employee Rebecca Doss in Little Rock, Arkansas, in 1989. Immediately following his conviction, Joseph Luby, Ward's lawyer at the time, told the court that his client "lacked a rational understanding about his case and was unable to fully and reasonably assist counsel in litigating it."
In 2006, a court-appointed psychiatrist diagnosed Ward with paranoid schizophrenia.
Executing mentally ill people in the U.S. was technically outlawed by the U.S. Supreme Court in 1986 following Ford v. Wainwright, which determined the Constitution's Eighth Amendment ban on cruel and unusual punishment should include executing the mentally ill.
"One of the death penalty's critical justifications, its retributive force, depends on the defendant's awareness of the penalty's existence and purpose," Justice Lewis Powell wrote in his opinion on Ford. "Executions of the insane both impose a uniquely cruel penalty and are inconsistent with one of the chief purposes of executions generally."
The Supreme Court in February declined to review an appeal on Arkansas' "conveyor belt" cases that argued their executions would be "intolerably painful" due to recent revelations about drugs used in the state's lethal injection cocktail.
Arkansas Gov. Asa Hutchinson argued the executions are necessary in compliance with state law.
"It is also important to bring closure to the victims' families who have lived with the court appeals and uncertainty for a very long time," he told reporters in February, according to a local CBS affiliate.