This Holocaust survivor has a powerful message for Sean Spicer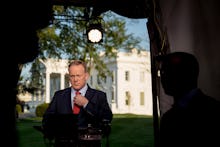 Holocaust survivor Roman Kent is speaking out after White House press secretary Sean Spicer's now-infamous remarks on Tuesday. Spicer suggested at a press briefing that Syrian President Bashar Assad committed acts worse than Adolf Hitler because even Hitler didn't use chemical weapons against his own people.
Kent, who was born in Poland in the 1920s and arrived in the United States in 1946 after spending the war in the Auschwitz, Mertzbachtal, Dornau and Flossenburg concentration camps, spoke to Mic in an exclusive interview in his office in New York City.
"He said, 'Anybody can make a mistake,'" Kent said of Spicer's apology in an emotional interview. "I agree with that. Anybody can make a mistake. But that's not a mistake. That's ignorance. ... To have a person ignorant like this at the helm of our government — because press secretary is very important — it's tragic."
In a rare move amid mounting public outrage in the aftermath of his comments, Spicer has since apologized for the remarks, expressing remorse. "I've let the president down," Spicer said, regretting the distraction from President Donald Trump's agenda.
However, calls are mounting for Spicer to be fired for his remark. On Tuesday, the Anne Frank Center called for Spicer to be fired in a statement posted on Twitter from its executive director. Several Democrats in Congress also joined those calls, including House Minority Leader Nancy Pelosi, who said, "Sean Spicer must be fired, and the president must immediately disavow his spokesman's statements. Either he is speaking for the president, or the president should have known better than to hire him."
When asked whether he believes Spicer should be fired, Kent said, "I am not the president of the United States. But as far as I am concerned, a man so ignorant should not be our representative. Ignorance is not an excuse. Not from a man like this, on a high position like this."