Donald Trump Obamacare: Here are the changes you can expect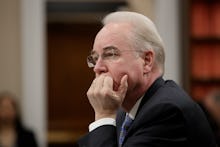 While President Donald Trump's attempt to scuttle the Affordable Care Act may have ended in failure, his administration still has the ability to make changes to the law.
The Trump administration is expected to release the final draft of a new rule designed to shore up the wobbly insurance marketplaces soon, NPR reported. That rule, if it looks anything like the draft released in February by the Department of Health and Human Services, could also make health insurance less affordable, harder to get and cover less, critics say.
"The proposed rule, if finalized, would add enrollment restrictions and make coverage less comprehensive and more expensive," Families USA, a health care consumer advocacy group that supports the ACA, said in a comment submitted to the federal rule making web portal. "These proposals chip away at some of the most popular and valued consumer protections the ACA provides."
Open enrollment period shortened
Perhaps the biggest change proposed by the Trump administration is shortening the so-called open enrollment period. Currently, the enrollment period is three months, running from Nov. 1 to Jan. 31 of the following year. Under the new rule, open enrollment would instead be six weeks, ending on Dec. 15.
Rachel Scwab, a research associate at Georgetown's Center on Health Insurance Reforms, explains the administration's case for shortening the enrollment period in CHIRblog:
Most importantly for insurers, the shorter enrollment period prevents consumers from signing up at the end of January to avoid a full year or premiums. Additionally, cutting the enrollment period could reduce opportunistic signups from people who initially pass on coverage and then learn of new health care needs in late December or early January. HHS hopes that these effects will streamline the process for consumers and insurers, and improve the risk pool by reducing adverse selection.
Critics say a shorter enrollment period might backfire. As NPR reported, "those who tend to wait until the last minute to sign up are actually often the youngest and healthiest — and they may miss the enrollment window if it is shorter."
Harder to enroll outside of open enrollment
The new rule would also make it more difficult to enroll outside the open enrollment period. Under the Affordable Care Act, there are a number of reasons someone might be eligible to sign up for coverage outside the normal enrollment period, such as moving, losing a job, getting married or having a kid. 
The Obama administration wasn't particularly strict when it came to verifying eligibility, and it didn't require proof of eligibility prior to receiving coverage. Insurance companies complained that this made the system ripe for abuse and drove up costs. The Obama administration tightened verification requirements somewhat to allay insurers' concerns, which resulted in 15% fewer sign-ups outside the normal enrollment period.
The Trump rule would go further, forcing those enrolling in the marketplaces to provide proof of eligibility before receiving coverage and, in the case of marriage, requiring at least one member of the couple to have had insurance for at least one day in the two months before getting married.
Insurance companies largely support the proposed change. "We appreciate that HHS proposes to take immediate action to tighten special enrollment period (SEP) eligibility and enrollment criteria, and we agree with the proposed changes to reduce misuse of SEPs in the individual market," America's Health Insurance Plans, an insurance trade group, said in a comment on the proposed rule.
Critics say the change would unfairly punish those who experience sudden, unexpected life changes. And asking for paperwork might discourage enrollment, they said.
"Excessive documentation requests may be a deterrent to potentially eligible applicants who would help spread the risk and HHS should take care not to discourage participation," Families USA said.
Changes to the "metal" system
Finally, the proposed rule would allow insurance companies to tinker with the arcane formula that determines what percentage of costs insurance plans of various levels are required to cover. 
Under the current rule, bronze plans, the lowest tier, are required to cover 60% of actuarial costs, silver plans 70%, gold plans 80% and platinum, the highest tier, 90%. Under the new rule, those numbers could be nudged a bit either direction, which insurers say would allow them to create plans more attractive to consumers. Critics say it would drive up costs.
"This policy will open the door for insurers to sell plans with even higher deductibles and other cost-sharing, and will effectively reduce the amount of financial assistance that millions of lower- and moderate-income people receive to help purchase marketplace coverage," Families USA said.