What are Barrel Bombs? Syrian President Bashar Assad has denied using the weapons.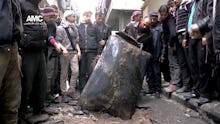 Chemical weapons definitely aren't the deadliest devices in Syrian President Bashar al-Assad's military arsenal. But barrel bombs may be.
The UK's Syrian Network for Human Rights reports that since the beginning of 2015, Assad's regime has dropped an estimated 32,000 barrel bombs on rebel targets and civilians, killing more than 2,500 people in the process, according to several Middle East news sources.
In contrast, Assad's three most notorious uses of chemical weapons in the country's civil war killed a total of 1,510 people, according to Mother Jones.
On Monday, President Donald Trump's red line on Assad's use of chemical weapons was re-drawn to include the use of the barrel bombs.
"If you put a barrel bomb into innocent people I think you will see a response from this president," press secretary Sean Spicer told the White House press corps, according to ABC News. "Make no mistake he will act."
That red line is now being tested.
The Syrian Observatory for Human Rights told reporters that Syrian warplanes dropped barrel bombs on rebel-held areas of the country's Hama province on Tuesday, a day after the United States said their use could lead to further U.S. strikes in Syria, Reuters reports.
What are Barrel Bombs?
Reports of Assad's use of barrel bombs, commonly thrown from military aircrafts, began surfacing in August 2012. The Daily Telegraph referred to the homemade munitions as "improvised weapon(s) with the aim of causing maximum death and destruction."
"Filled with TNT, oil and chunks of steel, the exploding barrels kill and maim across a wider area than high explosives," journalist Damien McElroy wrote.
Why use Barrel Bombs?
The bombs have been used frequently to target civilian populations in Syria. A 2016 Syrian Network for Human Rights report found that 96% of barrel bomb victims were civilians.
A May 2015 Amnesty International report found that Syrian government forces used barrel bombs or similar IEDs in attacks on at least 14 public markets, 12 transportation hubs and 23 mosques, and on "civilian objects," that include at least 17 hospitals and medical centers in addition to three schools from January of 2014 through March of 2015.
In the same time frame, Syria's Violations Documentation Center watchdog group claims barrel bombs killed at least 3,124 civilians in an around the city Aleppo alone, the report indicates.
Assad's denial
Assad and the Syrian military have repeatedly denied using barrel bombs in its attacks.
"We do not use these barrels and they do not exist in the Syrian Arab Army," a military source recently told Reuters.
In a February 2015 interview, Assad told the BBC that he hadn't heard of the use of barrel bombs by his military forces. 
"We have bombs, missiles and bullets," he said. "There is [are] no barrel bombs, we don't have barrels."