NES Classic Edition Discontinued: Stores to stock once more before Nintendo pulls the plug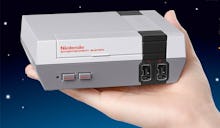 The NES Classic Edition has been available in a scant amount of locations ever since it first hit the scene. It's never been what some might call simple to procure even during its initial release, and it's about to become even harder. The NES Classic is being discontinued in North America.
Not long after assuring fans that the NES Classic Edition was not, in fact, being discontinued in the European region, Nintendo of America has done an about-face elsewhere. The company has issued a statement about its impending extinction and it comes as something of a shock. 
If you're still eager to get your hands on one before it's game over for the mini-console, rest assured that stores will stock one more time before calling it quits. However, once the NES Classic Edition is discontinued, it's going to make things even harder than they were before. 
NES Classic Edition Discontinued: Game over for the NES Classic
A representative for Nintendo has confirmed to IGN that the console is being discontinued and there is one last shipment in the works:
Throughout April, NOA territories will receive the last shipments of Nintendo Entertainment System: NES Classic Edition systems for this year. We encourage anyone interested in obtaining this system to check with retail outlets regarding availability. We understand that it has been difficult for many consumers to find a system, and for that we apologize. We have paid close attention to consumer feedback, and we greatly appreciate the incredible level of consumer interest and support for this product.
A representative also confirmed to IGN the NES Classic Edition "wasn't intended to be an ongoing, long-term product." They noted that the company "did add extra shipments" due to high demand, which isn't surprising given the amount of high-dollar NES Classic sales at storefronts like eBay, Amazon and other digital retailers.
Unfortunately, that's all she wrote for the NES Classic and its official controller, at least in the U.S.. According to Nintendo, Manufacturers of third-party accessories will be able to continue production. So you'll still be able to buy an extra controller if you managed you score an NES Classic.
NES Classic Edition Discontinued: Piracy concerns
It's unclear why the decision was made to suddenly pull the NES Classic from production, though it's clear Nintendo never envisioned the device as more than a limited edition product. However, it's also possible the excessive amount of piracy around the systems could play a role in the company's decision to cease manufacturing.
For example, some users were able to hack the NES Classic and load dozens of other games onto the system beyond what Nintendo included. It wasn't localized to NES games either. Tech-savvy gamers were able to load titles from the Sega Genesis, Nintendo 64 and other consoles onto the NES Classic as well.
Given Nintendo's predilection to crack down on modding and hacks of this nature, it wouldn't come as a surprise if these measures were taken as part of a failsafe to keep measures like this from spreading and further piracy from happening on its products.
NES Classic Edition Discontinued: Could we see a reworked console in the future?
Just because we're seeing the last of the NES Classic, that doesn't mean we won't see a new product released to replace the system. With the Nintendo Switch currently without a Virtual Console, consumers likely still want a cheap, simple and reliable way to play the classics. It will be up to Nintendo to provide them with one.
More Nintendo news and updates
The NES Classic may be coming to an end, but we still have the Nintendo Switch. If you're interested in the Nintendo Switch's games, here's info on the new Super Mario Odyssey game, Legend of Zelda: Breath of the Wild, Splatoon 2, Xenoblade Chronicles 2, 1-2-Switch and the goofy boxing game Arms.