Boston Marathon Bombing Anniversary: 5 ways to commemorate the victims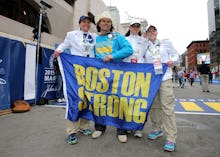 It's been four years since the Boston Marathon bombing left three people dead — Krystle Campbell, 29, from Medford, Massachusetts; Lu Lingzi, a Boston University graduate student from Shenyang, China; and Martin Richard, an eight-year-old boy from Dorchester, Massachuesetts — and injured several hundred more.
In the years since, the city of Boston has grown stronger with each marathon. Every year, the streets along the 26.2 mile route from the suburb of Hopkinton to downtown Boston are packed with well-wishers and fans holding signs reading "Boston strong." While this year will certainly come with the usual fanfare, it will also come with several ways to remember the victims of the 2013 bombing.
In 2015, Boston Mayor Marty Walsh declared April 15 One Boston Day, a day to celebrate "the resiliency, generosity and strength demonstrated by the people of Boston and those around the world in response to the tragedy of April 15, 2013." Check out a few of the events taking place in and around Boston to commemorate the day.
Deliver service packages to veterans
On Saturday, Mayor Marty Walsh, along with the City of Boston Veterans' Services, will deliver care packages and spend time with veterans in the Dorchester area. For information on how to get involved and volunteer, you can call 617-241-8387.
Donate your old sneakers
St. Francis House, the largest day shelter in Massachusetts, is partnering with John Hancock to host a sneaker donation drive to benefit people in need. People of Boston are asked to honor One Boston Day with a donation of new or gently worn sneakers. Each pair of sneakers donated will directly benefit people in the shelter.
"We are thrilled to be partnering again this year with John Hancock, a longstanding institution of Boston, in honor of One Boston Day,"  Karen LaFrazia, president and CEO of St. Francis House, said in a statement. "This sneaker drive will have a direct impact on our guests who come to St. Francis House seeking supportive services — in some cases for something as simple as a new pair of shoes. St. Francis House has long relied on the kindness and generosity of Boston residents, and we are excited to see that support continue as we honor One Boston Day."
Give blood
The American Red Cross and Sheraton Boston will be hosting a blood drive on April 15 from 10 a.m. to 3 p.m. At the drive, participants can either give blood or donate a "power red" which collects the red cells but returns most of the plasma and platelets to the donor.  Power red donors must meet specific eligibility requirements and have Type A-negative, Type B-negative or Type O blood.
Have lunch at Art Bar
Art Bar, one of Cambridge's best restaurants, plans to donate a portion of the the day's proceeds on April 15 to the Sean A. Collier Self-Sponsor Scholarship, a scholarship named for the officer who was killed while defending the Massachusetts Institute of Technology community in the days following the bombing. The scholarship funds one annual recruit to work through the Lowell Police Academy, "officer Collier self-sponsored himself through the transit academy to start his law enforcement career."
Clean up to honor Martin
The Martin Richard Foundation, set up in honor of the bombing's youngest victim, will commemorate One Boston Day with a spring clean-up in Peabody Square and along Dorchester Ave. on April 15. Following the cleanup there will be a moment of silence at the Peabody Square clock at 2:49 p.m. You can sign up to volunteer or donate here.