The U.S. is ready to strike if North Korea moves forward with nuclear test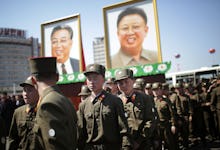 The United States is prepared to strike North Korea if officials become convinced that the isolated nation will follow through with a nuclear weapons test, senior U.S. intelligence officials told NBC News. Officials believe a nuclear test could come as soon as this weekend, on the anniversary of the birth of the nation's founder Kim il-Sung.
According to the officials who spoke to NBC, the U.S. military has positioned two destroyers capable of shooting Tomahawk cruise missiles (the same missiles President Donald Trump recently fired into Syria) in the region, and it is ready to deploy them if a nuclear test appears imminent. Additionally, the military has heavy bombers positioned in Guam if it requires more firepower. 
However, the strike against North Korea could take many different forms, NBC reported. It could include missiles and bombs or be done through cyber and special operations on the ground.
The real danger, however, is the U.S. playing its cards wrong. "The leadership in North Korea has shown absolutely no sign or interest in diplomacy or dialogue with any of the countries involved in this issue," Victor Cha, Korea chair at the Center for Strategic and International Studies, told NBC.
The U.S. would also need the permission of South Korea before making any military moves. "U.S. officials, mindful of such concerns here, repeatedly reaffirmed that [the U.S.] will closely discuss with South Korea its North Korea-related measures," South Korea Foreign Minister Yun Byung said in a special parliamentary meeting.
China would also play an important role in any military effort against North Korea. It has already sent several nuclear negotiators to Pyongyang, North Korea, to communicate with the country's leadership and has even begun to turn away its coal shipments.
But not all world leaders are happy with America for taking a forceful hand. The Russian government said in a press release shared with NBC on Tuesday, "We are gravely concerned about Washington's plans regarding North Korea, considering hints about the unilateral use of a military scenario."
Trump appears to be fine with moving forward without any help. The president tweeted Thursday, "I have great confidence that China will properly deal with North Korea. If they are unable to do so, the U.S., and its allies will!"
However, Max Fisher at the New York Times reported in March that striking North Korea would likely lead to the escalation of "all-out war." If the U.S. initiates war, Fisher added, "North Korea would almost certainly succeed in launching some nuclear and chemical weapons, potentially killing millions."