MOAB bombing video: Footage shows the moment the US bombed ISIS fighters in Afghanistan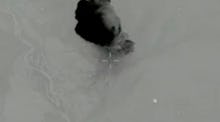 The United States Air Force released video footage this morning of the GBU-43, Massive Ordinance Air Blast bomb that killed 36 Islamic State group fighters in Afghanistan Thursday.
The 21,600-pound bomb destroyed an ISIS tunnel in the country's Nangarhar province.
A spokesman for Afghani President Ashraf Ghani told the BBC an ISIS commander name Siddiq Yar was among those killed in the strike.
"We were eating dinner when we heard a big explosion," an anti-ISIS group member told the BBC. "[I] came out of my room and saw a mountain of fire... the area was full of light with the fire of the bomb."
U.S. military officials said there were no civilian casualties.
President Donald Trump called the strike "another successful job".