3 clever ways to save money on Easter festivities this year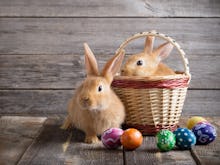 When it comes to Easter Sunday, people aren't messing around. From lavish Easter baskets to extravagant brunches, celebrations are getting bigger and better, according to the National Retail Federation.  In 2017, 89% of polled respondents said they will spend money on candy, followed by 87% on food and 61% on gifts.
Part of the reason this year's Easter spend is expected to be so big is because the holiday falls later in April, giving consumers three additional weeks to gear up for warm-weather shopping. Overall spending is anticipated to reach $18.4 billion, a 6% increase over 2016 — and that averages to about $152 a person.
Easter candy is a big category: Spending actually narrowly beat that on Halloween last year, according to data from Nielsen and reported by CNBC. There's even those Easter bonnets to consider: Half of consumers plan to buy new clothes this Easter, up 5% since 2016, according to the NRF release.
Luckily, even if you haven't started making headway with Easter planning (or spending) you can still celebrate in style without dropping a ton of cash.
Here are three easy ways to reduce your Easter budget.
1. Ditch the costly brunch and get outside
The traditional Easter brunch is almost certainly going to set you back. Even if you aren't trying to make up for forty days of Lent fasting (sorry Grandma!), you can expect to drop up to $150 per person in a nice venue. 
Of course, while there's nothing wrong with a lavish brunch, Easter is a time of the year when it's better to be outside anyway, and most cities offer an abundance of low-cost or even free events. 
The Easter Presidio Picnic and Food Truck Party in San Francisco, for example, will feature free yoga, lawn games and crafts — while also boasting more than 30 local vendors, food trucks and pop-ups. New York City has the Easter Parade and Bonnet Festival, and Chicago has an annual Easter Egg Hunt for adults that's only $5 to register for. 
In fact, pretty much every city hosts a free or low-cost event, and you don't have to stick to the same old egg-hunt-and-brunch routine. For example, the Charles Hosmer Morse Museum of American Art in Orlando is hosting a free open house during Easter weekend. Or opt for a visit to a local botanical garden: San Gabriel Valley in Los Angeles hosts an EGG-ceptional Celebration, where guests partake in crafts, refreshments and prizes for just $5.
2. Go green — and sustainable
Disposable Easter baskets filled with fake green grass are out and reusable baskets with earth-friendly materials are in.
If you haven't already, invest in relatively sturdy basket which you can reuse every year, and which can be had for $7.92 at Walmart. Shredded newspaper works great for filling and can go right into the recycling bin after baskets are opened. And instead of adding pre-packaged candy to the basket, Ana Serafin Smith of the NRF suggested buying candy in bulk and hiding them in colored eggs, which are also reusable. 
Finally, while you may be tempted to buy that special Easter dress, you may want to take a more practical approach and buy something you can wear again and again during spring and summer, like khakis, summer dresses and sandals, Smith suggested. Here's Mic's guide to making clothes last.
3. Hit the drugstore
The drugstore can be your best friend for Easter candy and toys, and as the Krazy Coupon Lady points out, some are touting pretty good deals: Rite Aid is currently advertising 25% off Easter toys and with separate deals two bags of premium jelly beans and non-chocolate Easter candy bags. 
With a Walgreens card, the drugstore chain is offering two for $7 on Dove Miniatures, Dove Chocolate Candy Eggs and Mars Minis. Plastic refillable Easter eggs are 99 cents for a six- or 12- pack — and if you're desperate and out of time, pre-made Easter baskets range from $9.99 to $24.99. CVS has similar deals on Hershey's Kisses, Cadbury Mini Eggs and more.
Already overspent on Easter? It's not too early to get a frugal start on future holidays: Right after Easter, drug stores usually have extra candy, which they unload in clearance sales. Halloween's only seven month's away, after all.
Sign up for The Payoff — your weekly crash course on how to live your best financial life. Additionally, for all your burning money questions, check out Mic's credit, savings, career, investing and health care hubs for more information — that pays off.