'Breaking Bad' fans may remember these 2 minor characters in 'Better Call Saul' episode 2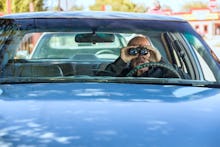 By now, Better Call Saul fans know the introduction of Gus Fring had all the hype for season 3 — the most immediate callback to the flagship series, Breaking Bad, since the prequel began. Fring makes his first on-screen appearance in the second episode of Better Call Saul's third season, titled "Witness," at a familiar fast-food restaurant. 
Fring's return is, as expected, the highlight of the episode. And since this is a prequel, he's back with a full face. However, Fring isn't the only Breaking Bad character who has a Better Call Saul introduction in "Witness." Two other characters — though minor by comparison — are shown, which more than anything, proves just how quickly this show could get back to its Breaking Bad roots. 
(Editor's note: Minor spoilers for Better Call Season season 3 below). 
Francesca
Jimmy and Kim need a personal secretary/paralegal for their new office, and the first person they interview is none other than Francesca. Francesca might not be known by name to the casual Breaking Bad fan, but most people will fondly recall her scene opposite Walter White during the season 4 finale (which, coincidentally, was the episode with Fring's death). 
By that point in Breaking Bad, Francesca is Saul's secretary and has inherited his sketchy approach to legal practice. She's shredding papers from Saul's office when Walter barges in, looking for Saul. She doesn't give up his whereabouts, despite Walter's threatening demeanor — she even calls him a "pain in the ass" to his face, which at that point is practically a Heisenberg death wish. She stands her ground, however, and asks for more than $20,000 dollars from Walter in exchange for information on Saul (I'm sure, in a way, Saul would be proud). 
Better Call Saul's Francesca isn't at this stage yet — she's just quit her job at the DMV — though we have no doubt it'll come over time if she's working for Jimmy. In the meantime, enjoy that fiery exchange between Walter and Francesca in Breaking Bad. 
Victor
Fring's got a lot of nameless henchmen, but one character that Breaking Bad fans get to know (even if he barely has any dialogue) is Victor. Victor is clearly one of Fring's most trusted men and can be seen in Better Call Saul picking something up from the back of Los Pollos Hermanos. We get but a glimpse of Victor, tossing a cigarette out his window before Mike pursues him. 
Victor may be short on dialogue, but he makes up for it in one of Breaking Bad's most memorable scenes — and arguably its most disgusting. Yes, if you didn't recall Victor by name, he's the one at the unfortunate end of Fring's box cutter in season 4. A quick recap: Fring kills Victor because he was spotted at the scene of Gale's murder, and you know how much Fring values his privacy. 
Obviously, Victor's going to survive the events of Better Call Saul, but fans won't soon forget the box-cutter moment. If you have the stomach for it, you can revisit the grisly scene below. 
The third season of Better Call Saul airs Mondays at 10 p.m. Eastern on AMC. 
Mic has ongoing coverage of Better Call Saul. Follow our main Better Call Saul hub here.