"Facebook Killer:" Latest on the search for Steve Stephens, who posted killing online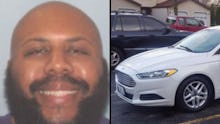 A multistate manhunt remains underway for Steve Stephens, the Cleveland man who allegedly shot and killed a random elderly man on Easter Sunday before posting video of the incident on Facebook.
Stephens, 37, is wanted on aggravated murder charges for the fatal shooting of Robert Godwin, 74, who was walking down a sidewalk around 2 p.m. Sunday when Stephens exited his vehicle, approached the man and shot him in the head, video of the incident showed.
The search for Stephens spans four states
Cleveland Police Chief Calvin Williams told reporters Monday that authorities across the U.S. are on the hunt for Stephens. Earlier reports indicated police in New York, Pennsylvania, Indiana and Michigan are on the lookout, according to Newsday.
"We have investigations going on all over the country trying to pinpoint his location," Williams said during a press conference broadcast on WKYC.com, Cleveland's NBC affiliate. "We're asking the public's help in finding this guy. We know he's out there someplace. We've talked to him."
Stephens claimed to have killed up to 15 people
In several videos posted to Facebook, Stephens claimed to have killed as many as 15 people including Godwin, but Williams said police have yet to find any other victims.
"We've searched high and low throughout this city," Williams told reporters. "As of 9 o'clock this morning, there are no more victims of Steve Stephens."
Stephens' alleged ex-girlfriend and Godwin's family are speaking out
Cleveland ABC affiliate WEWS reported Stevens' alleged ex-girlfriend, Joy Lane, sent her condolences to the victim's loved ones, according to its Twitter account.
"My heart and prayers goes out to the family members of the victim(s)," Lane said in a statement. "Steve is a really nice guy. He is generous with everyone he knows. He was kind and loving to me and my children."
On Sunday, Godwin's family gave a heart-wrenching interview to Cleveland's CBS affiliate.
Additionally, WEWS reported that multiple GoFundMe accounts circulating in Godwin's name were not legitimate. 
Stephens worked at a mental health facility
Stephens worked as a case manager at a children's mental health facility in Cleveland, according to a CBS affiliate.
In his videos, Stephens said he'd recently lost a lot of money gambling and had reached his "breaking point."