What's better: A credit card that earns travel points or one that gives you cash back?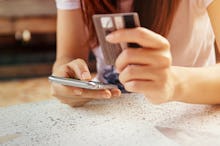 Choosing between a credit card that earns travel points and one that gives you cash back is like trying to decide between a donut or a bagel for breakfast. Both are delicious, but in totally different ways.
The myriad credit card options can make choosing the right card difficult, so it's no surprise that one in five credit card holders have a card that doesn't fit their lifestyle, according to a J.D. Power 2016 U.S. Credit Card Satisfaction study. The report found those folks would be better off switching to a different rewards card or skipping rewards altogether and getting a card with a lower interest rate or fees.
Both cashback and travel cards have higher interest rates than non-reward cards and some have annual fees. So if you carry a balance, a rewards-based card isn't your best option. That's because paying the high interest rate each month for carrying a balance cancels out any rewards you earn, Sean McQuay, credit and banking expert at NerdWallet said by phone. (Instead, check out these low-interest cards.) 
But if your credit is squeaky clean? Read on to learn about the best cards for rewards — so at least some of the money you spend comes back to your pocket.
Cash back versus travel points
If you love to travel — and spend a lot to globetrot — a card that earns travel points may be the best fit. But a 2016 NerdWallet study found domestic travelers need to spend at least $8,600 to save more with a travel card than a cashback one.  
"Points-based credit cards typically have plateaus the user must reach in order to redeem the points for certain goods and services," WalletHub analyst, Jill Gonzalez said via email.
The main advantage of a cashback card is that you are always getting money back, no matter what you spend it on or how little you spend. The average cashback card pays about 1%, but some pay up to 2%, while others pay more for things like gas or groceries. 
In the end, you need to look at the specific deals offered from each card and figure out how much you will save based on your personal spending habits. To help narrow your choices, we asked the credit card experts at WalletHub, NerdWallet and CreditCards.com for their top picks based on lowest fees, highest rewards and coolest sign-up bonuses, among other factors. 
Cashback cards with no annual fee
Citi Double Cash: Shoppers receive 2% back on all purchases: 1% when you charge it and another 1% when you pay your bill. That adds up to the highest base earning rate among cashback cards. Plus, there's no annual fee.
Capital One Quicksilver Cash Rewards: With no annual fee, 1.5% cash back rewards for every purchase and a $100 cash bonus after you spend $500 on purchases within three months of approval, this card is a favorite of WalletHub's Jill Gonzalez. You also receive a 0% intro APR for 9 months. 
Travel points card with no annual fee ever — plus a few good perks
BankAmericard Travel Rewards: There's no annual fee, foreign transaction fees are waived and a 1.5% rewards rate. Make $1,000 in purchases during the first 90 days and you'll get a $200 signing bonus. "The simplicity of this card is hard to beat," CreditCards.com notes. 
Capital One VentureOne: In addition to no annual fee, this card has a 0% interest rate on purchases made in the first 12 months plus a 20,000 mile bonus for spending $1,000 on purchases within three months of approval. That's equal to $200 in free travel. You also earn 1.25 miles per dollar on every purchase. 
Best cards for shoppers
Discover It: Earn 5% in quarterly rotating categories such as gas, groceries, restaurants or Amazon purchases. For everything else, you get 1% cash back. And here's a cool perk: Discover will match your cash back — dollar for dollar — at the end of your first year. Discover It also has no annual fee. 
American Express Blue Cash Preferred: This card offers 6% back on all grocery purchases, 3% back on gas and 1% on everything else. If you apply by May 3, you can earn up to $350 back on restaurant and other purchases within the first 6 months. The big drawback? You have to pay a $95 annual fee.
Citi Double Cash: Shop till you drop with unlimited 1% cash back on purchases and 1% when you pay your credit card balance. This card has no annual fee and it doesn't matter what you buy. The 2% total cashback rate applies to everything.
Best cards for travelers with big budgets
Chase Sapphire Reserve:  Sure, you have to pay the $450 annual fee upfront, but that's still $100 cheaper than the American Express Platinum, and you'll be rewarded generously. Chase will give you $300 in travel credits annually (reducing your effective annual fee to $150) along with 50,000 in bonus points — worth $750 when redeemed on Chase's portal — if you spend $4,000 on the card within the first three months. That's all on top of the three points on the dollar you earn on travel and dining purchases, which work out to a 4.5% reward rate if you redeem them on Chase's portal. 
Barclaycard Arrival Plus World Elite MasterCard: Pay an annual fee of $89 and you can earn a 50,000-mile bonus – redeemable for $500 in travel expenses –  for spending $3,000 during the first three months your account is open. You'll also earn the miles-equivalent of 2% cash back on all other purchases and receive a 5% rebate on miles redeemed. Even better: the Barclaycard has a "far lower annual fee than Chase Sapphire Reserve, and it gets waived for the first year," CreditCards.com's Matt Schulz said in an email. Sweet.
Sign up for The Payoff — your weekly crash course on how to live your best financial life. Additionally, for all your burning money questions, check out Mic's credit, savings, career, investing and health care hubs for more information — that pays off.