A new Gallup poll shows a majority of Americans no longer trust Trump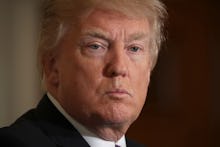 A new Gallup poll is shining a very bright spotlight on President Donald Trump's relationship with the voting public. Specifically, the Gallup poll released on Monday illustrates that American citizens simply do not trust the president anymore. 
"President Donald Trump's image among Americans as someone who keeps his promises has faded in the first two months of his presidency, falling from 62% in February to 45%," Gallup reported. "The public is also less likely to see him as a 'strong and decisive leader,' as someone who 'can bring about the changes this country needs' or as 'honest and trustworthy.'"
The poll shows a 7% drop between February and April of 2017 in people believing Trump will bring the change the country needs, a 6% drop in people's belief he is honest and trustworthy and a 4% drop in the belief that he "cares about people like you."
As for keeping his promises to his own party, the poll shows an 11% drop among Republicans and a 9% decreases among conservatives. The sharp decline, Gallup suggests, is due largely to Trump's apparent abandonment of his campaign promises including his pledge to repeal the the Affordable Care Act. 
Not surprisingly, the poll also showed a massive drop in Trump's trustworthiness among Democrats and those who didn't support his presidency in the first place. In February, Gallup found that 65% of women believed Donald Trump keeps his promises. Now, a mere 40% say they believe the president keeps his word, accounting for a 25% drop. The youngest American voters, those ages 18-34, also showed a significant drop in trust. In February, 56% of millennial voters said they believed he keeps his promises, but now just 34% say they do.
Trump has yet to see a successful Gallup poll during his presidency. As the analytics giant reported, Trump is the first elected president in Gallup polling history to receive an initial job approval rating below the majority level and has yet to come close to surpassing the 50% mark.