Southwest Airlines pilot arrested after bringing loaded gun to Albany airport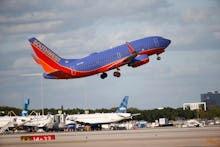 The airline industry just can't seem to catch a break. Following a week of embarrassing United Airlines headlines, Southwest Airlines now finds itself in some serious hot water too after a co-pilot attempted to enter the Albany International Airport in New York with a loaded gun.
According to the Associated Press, 55-year-old pilot Erik Gibson was slated to fly to Tampa, Florida, on Monday morning when a Transportation Security Administration officer detected a gun in his luggage during a routine screening.
Albany County Sheriff Craig Apple told the Associated Press that Gibson told authorities he forgot he was carrying the 0.380 caliber pistol, which was also loaded with six bullets.
In a statement provided to Business Insider, Southwest Airlines said:
"A Southwest Airlines first officer was detained at the Albany International airport security checkpoint before his scheduled flight to Chicago Midway Airport today. The Pilot indicated that he was unaware a weapon was in his carryon bag. We sincerely apologize to the passengers who were rebooked on others flights or who experienced a delay before a replacement Pilot arrived. We will conduct an internal investigation surrounding the event and continue to work alongside the local authorities, as necessary."
According to the TSA, individuals who bring firearms to the security checkpoint are subject to possible criminal charges and a fine up to $12,000. According to Apple, Gibson was charged with misdemeanor weapon possession and released on $200 bail.
"This incident highlights the importance of what TSA and its dedicated security officers do each and every day in protecting the flying public," TSA's Upstate New York federal security director Bart R. Johnson said in a statement. "I am grateful to the support that the Albany County Sheriff's Office provides to TSA on a daily basis."