Google Doodle honors Esther Afua Ocloo, who helped millions of low-income women secure loans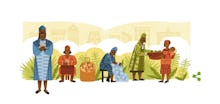 A Ghanian businesswoman named Esther Afua Ocloo earned the honors of a Google Doodle on Tuesday to celebrate what would have been her 98th birthday.
Ocloo was a pioneer in the field of microlending, which are small loans issued by people instead of banks. Such loans have become the bread-and-butter of working-class business owners in many African countries who want to avoid the traps of turning to big banks, which too often ignore poor black women. 
Ocloo knew those traps well. Known endearingly as "Auntie Ocloo," she began building her own marmalade business in the 1930s, according to Time. She spent the next 40 years learning how to start and run a business, and was later invited to the first United Nations Conference on Women in 1975.
In 1976, she helped establish Women's World Banking, a global nonprofit that helped poor African women secure loans to start their own businesses. Today, Women's World Banking serves nearly 24 million women across a total of 28 countries. 
Ocloo died in her native Ghana in 2002.