H-1B Executive Order: How "Buy American, Hire American" will affect visa holders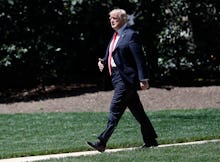 On Tuesday, President Donald Trump will take another step toward keeping his campaign promise of putting America first. During a visit to the Snap-on Tool Company in Kenosha, Wisconsin, Trump is expected to sign an executive order that will encourage the federal government to buy more American products and American companies to hire more American workers.
Called "Buy American, Hire American," the executive order has been touted by the administration as one step toward employing more Americans in well-paying jobs.
Buy American
There are two components to the order. The first, "Buy American," will tinker with certain rules the government uses when procuring goods and services. The policy will be "based on the twin pillars of maximizing Made in America content and minimizing waivers and exceptions to Buy American laws," a senior administration official told reporters on Monday.
The order will seek to close loopholes that allow the government to buy cheaper goods and services from abroad. It will also allow the government to factor in subsidization of goods and services by foreign governments when determining the lowest bidder, a move which might allow American companies to be more competitive in the massive federal procurement market. "The waivers and exemptions process in Buy American have been abused greatly, resulting in many lost job opportunities for American workers," the senior administration official said.
In fiscal year 2017, the federal government awarded more than $1.3 trillion in contracts, grants, loans and other financial assistance, according to USASpending.gov, a government website that tracks procurement spending.
Hire American
The second plank of the president's order will tighten the process for issuing visas to foreign workers. H1-B visas, which the government issues for highly-skilled workers, have been a frequent target of the administration, and Tuesday's order would seek to restrict them further. "The executive order will further call on the Departments of Labor, Justice, Homeland Security and State to take prompt action to crack down on fraud and abuse," a senior administration official said. "With respect to the H1-B program in specific ... we're basically saying to these agencies, tell us everything you think you can do." He said that some of that will be administrative, and some will have to be done legislatively.
Among other measures, the administration suggested increasing the fees for H-1B visas, ramping up enforcement of visa fraud and adjusting wage scales for H-1B professions to prevent companies from hiring cheaper, foreign workers to replace Americans.
The Trump administration has already enacted several changes to the H-1B program. In early April, it suspended so-called "premium processing" for visas for up to six months, which allowed visa applicants to pay for an expedited response. It also reclassified some computer programmers as not highly-skilled, making lower-level programmers ineligible for H-1B visas.