Colin Powell plans to pay very close attention to Jeff Sessions' police reform agenda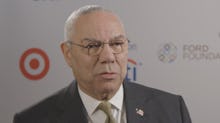 NEW YORK CITY — Former national security adviser Colin Powell said he intends to keep a close eye on how the criminal justice system changes under the Trump administration, for better or worse.
In an exclusive sit-down interview with Mic on Tuesday, the former secretary of state to George W. Bush, who has since turned his focus to domestic issues concerning children and young adults, urged communities most impacted by policing and incarceration to speak up about Attorney General Jeff Sessions' plan to de-emphasize police reform.
"It depends on what he does with his review of the consent [decree] agreements," Powell said referring to the Justice Department policing regulations intended to address systemic discrimination and abuse by police officers. "I mean, he will have to deal with each state and each community and he'll have to deal with the public. They'll be watching this very, very closely."
On Tuesday, Powell marked the 20th year of America's Promise Alliance, an national nonprofit connecting youth with mentors and resources to help them thrive into adulthood, at a New York City summit that featured former President Bill Clinton and rapper-actor Common. Young people are coming into contact with the criminal justice system at too young of an age, Powell said, and the government has a role to play in preventing it.
"It's too early to make a judgment on what [Jeff] Sessions might do," Powell said in the interview. "So, let's just watch very carefully and, if people think that what he's doing is inconsistent with what we need to be doing, then we will speak out."
In an USA Today op-ed on Monday, Sessions called the policing reform agreements recently negotiated in Ferguson, Missouri; Cleveland and Baltimore; among others, a "harmful federal intrusion in the daily work of local police." The attorney general claimed that consent decrees have opened the door for an uptick in violence.
"When proactive policing declines and violent crime rises, minority communities get hit the hardest," Sessions wrote in the op-ed.
Powell, who as founding chairman of America's Promise Alliance has convened national leaders on education and juvenile justice, said he is particularly concerned about a byproduct of decades of investment in law enforcement and policing: mass incarceration. 
"I've been to a prison in Colorado where 15-year-olds were [put] in with adult criminals, in terms of punishment," Powell said. "These kids cannot come out safely and go back into society. So, this has to be fixed."
But Powell isn't ready to endorse divestment from law enforcement and prisons, as activists in the Black Lives Matter movement have called for in the wake of high-profile police shootings and incidences of brutality. 
"You can't say, 'We should disinvest the criminal justice, police and courts.' They're there not just to protect white folks. They're there to protect black folks as well ... What they want is fair and balanced justice treatment for all Americans."
In the below clip, Powell addresses the fatal shooting in Cleveland and how it exposes the dark side of social media.
Correction: April 20, 2017