March for Science DC: What to know about the April 2017 march on Washington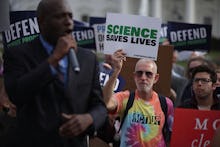 Since taking office in January, President Donald Trump has not only started a rhetorical war with the media and potentially real wars with North Korea and Russia-backed Syria, but he's also engaged in what critics call a "war on science."
This weekend, members of the nation's scientific community are battling back with an Earth Day March for Science at the nation's capital.
The March for Science initiative is a cooperative partnership between more than 200 scientific and academic institutions as well as nonprofits, uniting to "defend the vital role science plays in our health, safety, economies and governments," according to the campaign's website.
What exactly are they protesting? Here's a quick breakdown:
Trump doesn't believe climate change is real (or if he does, it doesn't matter).
On March 28, President Trump signed his Energy Independence executive order, rolling back former President Barack Obama's Clean Power Plan to reduce carbon emissions from coal plants across the country. It was a policy move in line with a position Trump has held since at least 2012, when he tweeted that climate change was a hoax perpetrated by the Chinese, a claim he denied making last year during a debate with Hillary Clinton.
The Washington Post reports prior to Trump's China conspiracy tweet, he argued climate change was, in fact, real, signing a 2009 letter to Congress urging law makers to support a clean-energy economy.
In a November New York Times interview after winning the election, however, Trump acknowledged "some connectivity" between carbon emissions and climate change but added his position on reform "depends on how much it's going to cost our companies."
"You have to understand, our companies are noncompetitive right now," he added.
The White House's website removed all previous mentions of the phrase, "climate change" in January.
Trump against the world
A July Sierra Club report acknowledged then-candidate Trump as the only potential national leader on the planet who doesn't think climate change is real, the Associated Press reports.
Consequently in November, an anonymous Trump administration source told Reuters the president's advisers had been examining not only ending the U.S.' involvement with the 2015 Paris Agreement — on which Time reports Trump's team is indecisive. The source says some of Trump's advisers support pulling out of the preceding 1992 Framework Convention on Climate Change treaty, which established global cooperation to reduce carbon emissions 25 years ago.
"It was reckless for the Paris agreement to enter into force before the election" the anonymous source told Reuters.
Trump's EPA chief doesn't like the EPA
The president in December appointed staunch EPA critic and climate change denier Scott Pruitt to head an agency Pruitt once described as having "an activist agenda," according to NPR.
Pruitt previously sued the EPA 14 times while serving as Oklahoma attorney general. He also has served with an alliance of Republican AGs partnering with some of the nation's top energy producers to persuade Congress not to support climate change initiatives, according to the New York Times.
Free Public Radio reports almost 800 outgoing EPA members signed a February petition opposing Pruitt taking the EPA helm, but since beginning his new job, Pruitt has declined to do what many climate change deniers have been clamoring for the most.
Politico reports conservative critics in March called for Pruitt's head when he refused to challenge Obama's 2009 EPA "endangerment finding," the old EPA's Clean Air Act assertion that CO2 emissions themselves endanger public health and welfare by warming the planet.
The U.S. Supreme Court in June declined to review legal challenges to the endangerment finding, which in 2012 was upheld in federal court, The Hill reports.
Pruitt, ironically, has argued to Trump any reversal of the endangerment finding would likely be overruled the courts, according to the New York Times.
Trump's Dakota Access Pipeline renewal
On Jan. 24, the Urban Policy Initiative reports President Trump signed an executive order to continue creation of the Dakota Access Pipeline, reversing the Obama administration's pause on the initiative. 
After weeks of unending protests from members of the local Standing Rock Sioux native tribe and its allies last year, the U.S. Army Corps of Engineers in December declined to approve an easement for further construction on the pipeline. CNN reported the Sioux tribe and its supporters have argued the pipeline encroaches on sacred land, and according to Salon, potential oil leaks could contaminate its water supply.
The launch of a new water treatment plant stationed away from the pipeline may greatly reduce the risk of water supply contamination, though Standing Rock supporters are skeptical, Reuters reported.