Bernie Sanders says he will look into the cost of protecting Trump's kids' trips around the globe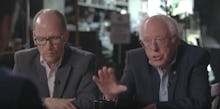 Sen. Bernie Sanders said he is going to look into how much American taxpayers are paying to protect President Donald Trump's children when they travel the world for Trump Organization business ventures. 
"I'm the ranking member of the Budget Committee, leader of the minority, the opposition, and that is an issue I want to look at," Sanders said during a sit-down interview in Frankfort, Kentucky, where he was holding a unity event with Democratic National Committee Chairman Tom Perez. "How much money are we spending protecting Donald Trump's kids who are running all over the world on business ventures?"
Trump's son Eric Trump traveled to Uruguay in January on a Trump Organization business venture — a trip that reportedly cost taxpayers nearly $100,000. And in February, Eric and brother Donald Jr. went to the United Arab Emirates for a formal opening of the Trump International Golf Club, in addition to trips to the Dominican Republic and Vancouver, Canada.
"His kids are traveling the word as part of their business enterprises. That's fine, they have a right to do that," Sanders said. "But whether the taxpayers of this country need to provide the significant expense associated with providing security for the business ventures of his family all over the world, I don't quite see that."
Sanders also criticized Trump for what he suggested were hypocritical jaunts to Mar-a-Lago — Trump's ritzy Palm Beach, Florida, resort. While Sanders said all presidents are entitled to some downtime, he said Trump's golf outings at Mar-a-Lago are costly and hypocritical, given the fact that Trump bashed former President Barack Obama for his golf outings.
"He was very critical of Obama, and suddenly now it appears every weekend he's off at his resort in Florida," Sanders said.
Perez, for his part, suggested that Trump taking fewer trips to Mar-a-Lago could save taxpayers millions of dollars, which could be spent on programs that help underprivileged Americans.
"If [Trump] went half as much, you could take that savings and make sure that everyone here in Kentucky who is getting meals on wheels will continue to get it," Perez said, referring to the meals program for poor seniors that Trump's budget aims to cut. "This is about priorities."