2017 French Elections: Here's what you need to know and why they matter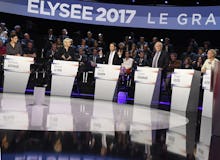 The United States isn't alone in its contentious political atmosphere. France is also in the midst of what CNN described as "one of the most unpredictable and dramatic presidential campaigns in French political history."
With just days until Sunday's first round of voting, the race for the leadership position in France remains too close to call (but then again, as any United States citizen can tell you, presidential polls really mean nothing). Here are four things you need to know about the French presidential election and why the results of this race matter the world over.
First, a quick primer on how the French vote
The French use a two-round voting system to help pick a winner. In every election where there is a single official to be elected for a given position, the two-round system is used. Candidates can technically win in just one round, but as Business Insider reported, "If no candidate receives an absolute majority of votes during the first round, the two candidates who received the most votes go on to the second round of the election," though no candidate in history has managed to win it on the first go.
It's really a four-person race
The race to the French presidency looks locked between National Front Leader Marine Le Pen, independent candidate Emmanuel Macron, far-left candidate Jean-Luc Mélenchon and conservative candidate Francois Fillon.
Le Pen, whose father Jean-Marie Le Pen founded the far-right National Front, studied law and eventually became a legal adviser to the party in 1998. During her rise through the ranks, Le Pen worked hard to change the image of the party her father started for the better. As for her own political stance, Le Pen believes in political and nationalistic isolation, but more on that later.
Meanwhile, at 39 years old, Emmanuel Macron is the youngest candidate on the ballot. While he has experience in politics, serving under President François Hollande as minister of Economy, Industry and Digital Data, he is the only candidate with zero campaign experience, Business Insider reported. Macron is running as the direct opposite of Le Pen as an independent, socially liberal candidate.
Then there is Jean-Luc Mélenchon. Mélenchon is the leader of the "France Insoumise," or Unsubmissive France coalition, which is backed by the French Communist Party, and is a member of the European Parliament for South West France. Mélenchon also ran in the 2012 presidential election, but came in fourth in the polls. Mélenchon may seem eerily politically familiar to Americans in one respect. As the Telegraph reported, "An innovative campaigner, he has also created a buzz by appearing at rallies as a hologram and boasts more than a million followers on Twitter and his own YouTube channel — a way to circumvent the traditional media, which he accuses of bias." His biggest campaign promise to date has been to rewrite the French Constitution to end what he called a "presidential monarchy."
And finally, there is Francois Fillon. Despite several setbacks, including the fact that he is under investigation for embezzlement of public funds, Fillon is still hanging around in the top four candidate pile. Fillon has extensive political experience and served as prime minister between 2007 and 2012 under former President Nicolas Sarkozy. However, it may not be his scandals that undo his political career, but rather his apparent lack of a personality. "Sarkozy was such a big personality that I think a lot of people don't really know who Fillon is," Aurelien Mondon, senior lecturer in French politics at Bath University, told CNN in 2016. "Indeed one thing that could work against Fillon is his lack of charisma."
France may see a "Frexit"
As of Wednesday, Le Pen is in a virtual tie with Macron — who leads the presidential pack by roughly a percentage point over Le Pen, well within the margin of error. If Le Pen wins, she has said she will call a referendum on leaving the euro, creating a "Frexit," and return the Franc as the nation's currency. Regulators and investors, according to Reuters, are already asking French banks about their preparations for any market ructions if Le Pen pulls through and wins the election.
"Foreign investors are asking a lot of questions. We have to keep explaining that there are two rounds," a senior executive at French bank told Reuters. Pierre-Rene Lemas, the head of the state-backed Caisse des Depots, additionally told Reuters that retail French investors are keeping their money liquid with tax-free regulated savings accounts just in case.
If Le Pen wins, and if she actually succeeds in exiting the European Union, it will cost France an estimated $190 billion, according to a study by Institut Montaigne. The study, Fortune reported, predicts a 20% drop in the exchange rate of the reintroduced French franc, along with a higher interest rate, and warns that "the number of jobs destroyed by this measure could be tens of thousands in the first year and could easily top 500,000 in the long term." Or as CNBC so delicately put it, "This would be the largest credit event in history and would create a massive contagion effect throughout the euro zone. ... This French exit from the euro would also mean the collapse of France's pension and social security systems, which are mostly invested in sovereign bonds, the destruction of the savings of millions of citizens and the bankruptcy of thousands of French small companies."
Those looking to immigrate or are seeking asylum will be in serious danger
In addition to promising to take steps toward a "Frexit" referendum, Le Pen has also said she hopes to change immigration policy in France, slashing legal immigration from 200,000 to no more than 10,000, and additionally wants to limit immigrants' access to public services.
"I would set up a moratorium on all legal immigration to stop this delirium, this uncontrolled situation," Le Pen said at a rally in Paris, according to CNN. "Mass immigration is not an opportunity for France, it's a tragedy for France," she added. "The French sometimes have fewer rights than foreigners — even illegal ones."
But Le Pen isn't the only candidate who wishes to curb immigrants and asylum seekers from entering the country. According to Reuters, Fillon also wants Parliament to set an annual immigration quota based on available employment, housing and other social factors. In January, Fillon tweeted, "As long as Europe's borders are not protected by our partners, France will re-establish real controls at its borders." Also in January, Fillon met with German Chancellor Angela Merkel, the Telegraph reported, and said France could no longer accept refugees and would "make a different choice" than Germany under his leadership.