Fresno shooting spree leaves 3 dead in apparent "random act of violence"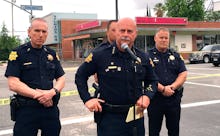 Three people were killed on Tuesday in Fresno, California as a man went on a shooting rampage throughout the community. 
The alleged gunman, 39-year-old Kori Ali Muhammad, is also a suspect in the deadly shooting of a security guard outside a Motel 6 last Thursday, according to the Fresno Bee. Muhammad is now facing four counts of murder and two counts of attempted murder, Fresno Police Chief Jerry Dyer said.
The victims, all white males, appear to be the target of a racially-motivated attack by Muhammad who reportedly expressed dislike of whites in Facebook posts, according to Dyer. 
"What we know is that this was a random act of violence," Dyer said in a news conference. "There is every reason to believe he acted alone."
The shooting spree began around 10:45 a.m. local time, according to the local Fox News affiliate. The first victim was shot in a Pacific Gas and Electric utility truck, the Bee reported. The next victim was shot and killed a few blocks away. A third person was shot and killed in the parking lot of community establishment Catholic Charities, according to the paper.
Muhammad dove to the ground and yelled "Ali Akbar" before he was taken into custody by police, the Bee reported. 
Seyed Ali Ghazvini, an imam of the Islamic Cultural Center of Fresno, told the Associated Press that while Muhammad was not a member of his center, he and other faith leaders are trying to identify gunman.
"We're kind of shocked and surprised [by] what happened," Ghazvini said. "We are very sorry for this to happen. We offer condolences for the victims, we pray for the victims and their families."
Police say it is too early for them to determine if the shooting was an act of terrorism, according to the Bee.