The Fearless Girl statue is still proving that representation matters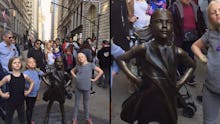 Three anonymous little girls just reminded us all why representation, even in the form of bronze statues, matters. 
On Tuesday, Page Six and New York Post writer Alexis Benveniste shared this powerful photo to Twitter: 
According to Benveniste, she walked by the trio of girls who were visiting the city with their mother when she snapped their photo. In it, the three young women look unstoppable and inspired while surrounding the Fearless Girl statue in New York City. 
The statue, as Mic reported in March, was installed by State Street Global Advisors as a call to action for the more than 3,500 companies it invests in adding more women to their boards.
"A key contributor to effective independent board leadership is diversity of thought, which requires directors with different skills, backgrounds and expertise," Ron O'Hanley, president and chief executive officer of SSGA, said in a statement about the statue. "Today, we are calling on companies to take concrete steps to increase gender diversity on their boards and have issued clear guidance to help them begin to take action."
The statue has become an important tourist destination of late, attracting women of all ages to come and snap a photo with their new heroine. Even Massachusetts Senator Elizabeth Warren stopped at the statue to take a photo and shared the message to "fight like a girl."
While no single statue will change the world overnight, perhaps the message she's sending and the strength she's providing to women all over will help propel us forward. After all, there's still plenty of room for improvement when it comes to women in the American workforce. As the Center for American Progress noted in its 2014 fact sheet: "Although they hold almost 52 percent of all professional-level jobs, American women lag substantially behind men when it comes to their representation in leadership positions." The abysmal statistics show that women are only 14.6% of executive officers, 8.1% of top earners and 4.6% of Fortune 500 CEOs.
"In her short time here, the Fearless Girl has fueled powerful conversations about women in leadership and inspired so many," New York Mayor Bill de Blasio said in a statement to the New York Daily News. "Now, she'll be asserting herself and affirming her strength even after her temporary permit expires — a fitting path for a girl who refuses to quit."
The statue, which was unveiled on International Women's Day, was originally slated to only appear for a single week, however, Mayor de Blasio made the decision to keep the bronze statue through February of 2018.