Patriots' White House Visit Livestream: Watch Trump greet the 2017 Super Bowl winners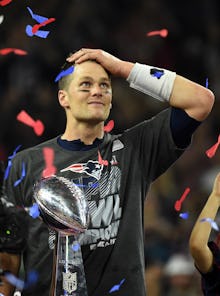 Like most of Donald Trump's presidency, the Super Bowl championship team's annual ritual of visiting the White House is certain to be a bit different in 2017.
Trump is honoring the New England Patriots for their miraculous Super Bowl win in February, during which quarterback Tom Brady rallied his team to score 31 unanswered points after trailing the Atlanta Falcons 28-3 in the game's third quarter. The historic comeback was capped by Pats running back James White's two-yard touchdown run in overtime to secure his team's fifth Super Bowl victory in seven tries since 2001.
Rather than just posing for pictures and talking about their thrilling victory, the Patriots will be dealing with news about the sudden death of former teammate and convicted murderer Aaron Hernandez during their audience with Trump. Meanwhile, several Patriots who do not support the president are expected to skip the visit entirely.
You can livestream the ceremony starting at 2:30 p.m. Eastern.
Trouble with Trump
Shortly after winning the big game in February, Pats tight end Martellus Bennett confirmed he wouldn't attend the traditional White House meeting with the president.
"It is what it is. People know how I feel about it," Bennett said, according to the Dallas Morning News. "Just follow me on Twitter."
Linebacker Dont'a Hightower and free safety Devin McCourty also said they wouldn't attend the White House event. 
"I'm not going to the White House," McCourty told Time via text. "Basic reason for me is I don't feel accepted in the White House. With the president having so many strong opinions and prejudices, I believe certain people might feel accepted there while others won't."
In a surprise announcement Wednesday morning, Brady announced that he would not be attending the ceremony due to "personal family matters," but thanked Trump for supporting the team and said that he hoped to visit the White House if the team wins another championship.
April 19, 2017, 11:32 a.m.: This story has been updated.