'Kingdom Hearts' Dalmatian Guide: Where to find all 99 Dalmatians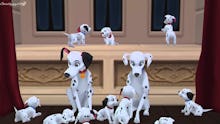 Kingdom Hearts features several quests and secrets you can uncover along the way, if you're willing to invest the time. A particularly lengthy one is the Dalmatian Quest, which requires you to seek out all 99 of Pongo and Perdita's Dalmatian puppies scattered throughout the worlds in Kingdom Hearts. 
If you take the time to find and recover the lost puppies, you can earn some useful items and rewards. You'll need to make use of important skills and abilities to reach all of the puppies, which can be found in treasure chests. 
Your task will require a great deal of backtracking and traveling back and forth, so if you happen to miss a few on your first runthrough of a world, don't panic. You probably weren't meant to reach those puppies yet. Here's a handy guide to where you can find each and every single pup out there, which we've referenced from IGN and the official BradyGames strategy guide. 
Kingdom Hearts Dalmatian guide: Find all Dalmatians in Traverse Town
1, 2, 3: Head to the island across from Merlin's house. You'll need to be equipped with the Glide ability — which you can earn in Neverland — to reach the island in the first place. Strangely enough, this first batch of puppies won't actually be available for you until later in the game. Just remember to come back for them!
4, 5, 6: You'll need to complete the first set of worlds (denoted by a "ring" of worlds) in-game before you can access these puppies. Head to the alley in District 1. You'll need to use the Red Trinity ability to access this area. 
7, 8, 9: Make sure you have the Green Trinity in the Item Workshop right above Cid's Accessory Shop to reach the area with the Dalmatians. You'll be able to find them here. 
10, 11, 12: Head to the Secret Waterway and use your Red Trinity to find the puppies. 
Kingdom Hearts Dalmatian guide: Find all Dalmatians in Wonderland
13, 14, 15: In Wonderland, check out the Queen's Castle. There's a platform at the very top that you'll need to reach via an exit in the Lotus Forest. Simply go to the Lotus Forest and head to the left to find them above where you enter the forest. 
16, 17, 18: Check one of the higher platforms found in the Lotus Forest, similar to the one you explored to find 13, 14 and 15. 
19, 20, 21: Go to the Tea Party Garden when you've gotten the High Jump ability — which you'll receive after you complete the Monstro area later on in the game. Come back and you'll be able to access the treasure chest you see here. 
58, 59, 60: Go to the Bizarre Room, which can be found above the entrance to the Tea Party Garden. You'll find a picture frame there that you'll need to get lit up. Once you light up the frame, you'll be transported to Lotus Forest. Use your thunder ability on the flowers hanging here. You'll then be able to access the puppies. 
Those are all of the puppies available in the first two worlds. Be sure to check back for additional puppy locations — we'll be updating this post with all 99 Dalmatians.
More gaming culture and criticism
Check out the latest from Mic, including our deep dive into how female Overwatch players are dealing with online harassment, an article about a fan movement advocating for more same-sex romance options in Mass Effect, a personal essay about JonTron written by a fellow Iranian-American and an article looking at cultural diversity in Overwatch.