UK Snap Elections: Here's why Theresa May's call for early elections won't reverse Brexit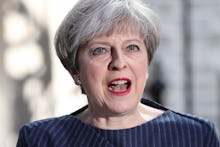 Does British Prime Minister Theresa May's decision to hold snap parliamentary elections mean the United Kingdom won't "Brexit" the European Union? The short answer: no. In fact, May's decision on Tuesday may shore up her party's negotiating position in upcoming talks.
May's Conservative Party, which is firmly pro-Brexit, holds a bare majority of 17 seats in Parliament, but most polls show conservatives with a double-digit lead over the opposing Labour Party, led by Jeremy Corbyn. If that polling holds true, British voters could increase the conservatives' majority to 100 seats or more when they head to the polls in June, giving May more leverage in upcoming talks with the EU.
"There should be unity here in Westminster, but instead there is division," May said Tuesday, according to CNN. "The country is coming together, but Westminster is not. We need a general election and we need one now."
A Parliament packed with conservatives could also give May political cover if, as some analysts predict, the British economy takes a hit when it leaves the EU.
Vote could cause Brexit delays
However, the unexpected elections might delay the beginning of the talks, which EU officials said could begin as early as May. "The president considers that the real political negotiations on Article 50 with the United Kingdom will start after the elections foreseen for the 8th of June," a spokesperson for the European Commission told the Independent.
Article 50 of the Lisbon treaty stipulates that Brexit talks must be concluded by March 2019, unless both sides agree to an extension.
Still, there's a small chance May's decision could backfire. If the polls are wrong, voters could hand the reins over to the Labour Party, which — despite Corbyn's pro-Brexit vote — is less pro-Brexit than the Tories.