Freddie Gray died 2 years ago today — and Baltimore is still seeking police reform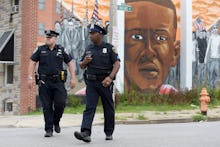 It's been two years since Freddie Gray died from injuries he sustained while in custody of the Baltimore Police Department. But in the Charm City, "ain't shit change," Black Lives Matter movement activists tweeted Wednesday.
Even if little appears to have changed on the police force or in the ways officers treat city residents, there has been some movement. In April 2015, the state's attorney's office charged six officers in connection to the neck and back injuries Gray sustained, which led to his death, during a rough ride in a police van on April 12, 2015, after days of protests and civil unrest in the majority-black city.
Although those officers were acquitted in trials or had charges dropped against them, the U.S. Department of Justice investigated police abuse and sued the city into a police reform agreement known as a consent decree. And now, it's up to city leaders to follow through on those reforms, civil rights leaders said.
"To this day, no officers have been held responsible in a court of law for the conduct that led to Mr. Gray's death, and it's likely none ever will," Sherrilyn Ifill, president and director-counsel of the NAACP Legal Defense and Educational Fund, said in a statement released Wednesday. "The only justice we can hope for now is the meaningful policing reform that the residents of Baltimore so deeply deserve."
As part of the consent decree, Baltimore leaders must appoint people to a five-person Civilian Oversight Task Force, which will have the responsibility of reviewing and making recommendations on how to strengthen the city's current oversight board, the NAACP LDF said in the statement. The city must also hire an independent monitor to oversee reforms needed to address excessive uses of force and unlawful arrests that the DOJ cited in its scathing report on Baltimore police, the organization said.
"We have asked the mayor to solicit nominations from Baltimoreans and publicize the list of nominees on the city's website before making final decisions," the statement read.
Mayor Catherine Pugh did not immediately respond to Mic's request for comment Wednesday. In a recent speech, the mayor acknowledged the need enact reforms in the wake of protests and unrest over Gray's death.
"I look forward to restructuring our Mayor's Office of Criminal Justice, strengthening our Civilian Review Board ... and further selecting an independent monitor for our consent decree," Pugh said in the annual State of the City address on March 16.
Ralikh Hayes, a coordinator of the grassroots collective Baltimore BLOC, an organization affiliated with the Movement for Black Lives, said his group supports community control of law enforcement through civilian oversight boards and commissions. But the process through which Pugh is going to choose members of the oversight task force is shrouded in secrecy, Hayes said in a phone interview Wednesday.
"We would definitely like the opportunity to participate, but as far as we know, there isn't any process," he said.
On the mayor's government website, a page for board and commission appointments states that applications "are not being accepted at this time." Hayes said multiple people in the community and local media outlets had not received a response to questions about the task force.
"I don't really have much faith in the current mayor, or the majority of city leadership, to stop things from returning to the status quo and business as usual," Hayes said in the interview.