'Pokémon Go' Easter Event End: Get the most out of the last day of the Eggstravaganza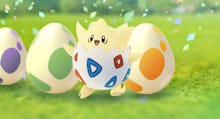 Pokémon Go's Easter Eggstravaganza event is about to come to a close. It originally started  1 p.m. Pacific on April 13, and will officially come to an end at 1 p.m. Pacific on April 20. 
With about one day left on the clock before the event closes, you'll want to hit up all of the goodies it provides before they're all gone. Similar to the Water Festival that passed recently, there are several different boons for capturing Pokémon, earning experience and more. 
Here's how you can maximize your time left with the event before it disappears before your eyes. 
Pokémon Go Eggstravaganza: What can you get from the event?
Right now, any XP you earn during the Eggstravaganza is doubled. You can also earn more candy when you hatch Pokémon eggs. This is valuable because there's a larger variety of Pokémon available to hatch from 2km eggs, and Lucky Eggs themselves are 50% off when you purchase them in the in-game store. You've got plenty of reasons to participate in the event, so if you've been looking for a reason to get back into the game after taking a break for a while, this might be the best reason there's been in some time. 
Pokémon Go Eggstravaganza: How can you make the best of the last day of the event?
Most of the Pokémon Go Eggstravaganza event is focused on eggs and things that go along with them. You'll want to take advantage of the Lucky Egg sale for one since they're 50% off. Eggs are one of the most useful items in the game, especially since you can only get certain Pokémon that way. Plus, 50% off is a fantastic discount, especially if you're running short on cash. You'd be best -suited purchasing at least the bundle of eight eggs to get the biggest bang for your buck. This way, you've got several chances to hatch Pokémon you've been looking for if you need a specific evolution.
You'll also want to spend as much time as you can catching Pokémon in your spare time. This probably goes without saying, but you'll be rewarded with additional XP each time you catch one. The more Pokémon you catch, the more chances you'll have for evolutions, which also net you additional XP. You've got several more chances than usual to farm experience, so playing as normal will be beneficial to you. If you've been waiting for a mini-Pokémon Go binge, this might be the best time to go all out. 
Go through your Pokémon stash and evolve as many as you can, because this will be the best time for you to perform mass evolutions as well. Generally, you'll want to burn through all the normal functions of Pokémon Go at a heightened rate, since you're getting more XP, discounted prices, additional candy and a bushel of other boons. 
Now get out there and finish this Pokémon Go Eggstravaganza with a bang!
More Pokémon Go guides, tips and tricks
If you're booting up the game for the first time in a while, be sure to check out Mic's guides on how to get stardust, how to determine how long it will take you to reach level 40, the kind of Pokémon you get from 10-kilometer eggs, how to create new PokéStops, how to maximize your chances of catching Pokémon and how PokéStops distribute Pokémon eggs. Also check out how to catch Gen 2 baby Pokémon, our analysis of post-balance update Chansey and Rhydon and everything you need to know about finding the long-awaited Pokémon Ditto.