Wedding Guest Survival Guide: 5 money hacks to save you from going broke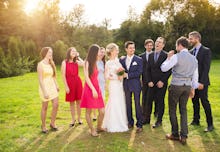 Perhaps you cry through the nuptials — or when the champagne runs out. Maybe you're the best maid of honor around — or you're squirming through the best man's speech. Whether you're excited for it or not, wedding season has arrived, which means one thing: spending a ton of money. And as the invitations pile up, your budget can become a casualty of your revelry. 
The average cost to attend a wedding now tips toward $600 or more — including travel, gifts and attire — expenses that are one reason why 39% of people polled actually just skip the festivities, according to a recent Priceline survey. And with 49% of couples getting married 200 miles or more from where they currently reside, according to a 2015 survey by the Knot, guests frequently have to tack on travel, hotel and rentals.
How can you make it through wedding season financially unscathed? 
Keep your budget in check by planning ahead, Sarah Berger, self-described "cashlorette" at Bankrate told Mic: "The minute you receive the 'save the date' card, open a free account that allows you to deposit $20 to $50 a month to put toward expenses for a wedding," she said. You can even earn a little interest.
And you'll also want to cut costs wherever possible. Here are five tricks to enjoying wedding season on a dime — so you don't have to skip the festivities.
1. Slash costs on planes, trains and automobiles
If you have to travel for the nuptials, book your flight three months in advance to lock in a ticket for your desired departure day, Mark Koehler at Priceline said to Mic by email.
"If you are able to be flexible with arrival and departure times, you're more likely to get a better deal," Koehler said. A number of online travel sites provide deals and discounted rates: See Kiplinger's list.
And, if you want to get really specific, research has found that booking about 54 days in advance will get you the best price on domestic flights.
For ground travel, there are services like Priceline's last minute rental rates using the "express deals" feature. Other sites like Rentalcars.com can also provide reduced rates and you can shop around for discounts through ride-share apps if you need a lift to and from the venue. 
2. Sleep on the cheap
Better hotel deals are usually found closer to your arrival date, Koehler said: "Hotels often 'unblock' a number of rooms closer to an event." Even if the engaged couple blocked off a number of rooms for guests, look for hotel offers in the same neighborhood, as you may be able to score an even better deal at a neighboring hotel, Koehler suggested. 
Other ways to save include purchasing someone else's reservation through Roomer Travel, asking for a price match and searching for last-minute rental deals through sites like VRBO, as GoBankingRates suggests.
Additional options? Consider a short-term room rental, homestays, hostels, farmstays and camping. And you can always crash with relatives or friends if that's an option.
3. Give a great gift for less
If you aren't close to the couple, spend $50 to $75 on a gift, advises Vogue. But if a family member or close friend is getting married, it's appropriate to drop between $75 and $150 — though you can certainly go higher if your budget permits.
Worried that big-spender guests are making you look cheap by comparison?
Instead of giving cash or gift cards, focus on physical gifts — a more popular choice for millennials, according to a recent Bankrate survey. And don't feel beholden to the registry: When everything left seems either too cheap or too expensive, you can opt for the more affordable option and just send a personalized present on the side.
Inexpensive but thoughtful gift ideas include homemade theme baskets (think wine and cheese, or a honeymoon bundle with sunscreen, luggage tags and travel-sized goodies), making a donation to the couple's favorite charity, a beautifully framed photo of the couple or a handcrafted gift like an embroidered blanket or front-door plaque.
Now, should you send a gift if you can't attend? After all, by saying no, you are saving the bride and groom on the cost of your drinks and meal.
Etiquette expert Emily Post says if you receive a wedding invitation, you should send a gift. But you may be off the hook if you are not close to the couple. Sending a lovely card with your well wishes is appropriate if you don't have a special bond.
If you do send a gift, something like a $30 wine opener just might do the trick, Vogue says. Partner it with a nice bottle of wine or a gift card with a personal note to let the couple know you are celebrating their marriage even if you couldn't attend. Classy.
4. Make that destination wedding do double duty
You want to attend a destination wedding in Jamaica, but funds are limited. Can you still go and have fun without financial pain? A few ways to lower travel costs include bundling your flight and hotel, and booking flights on either a Tuesday or Thursday, Priceline says.
But you can also maximize a destination wedding by turning the wedding into your vacation, as Time advises: Tack on an extra week — or two.
5. Look like a million bucks without spending a million bucks
One way to don designer threads is to rent designer gowns or suits through companies like Rent the Runway. You can subscribe for $139 a month or rent by the piece. For men's business attire, there are similar companies, like The Mr. Collection for $59 a month.
Of course, borrowing clothes from friends is another inexpensive way to go, but if you are attending the same events together, you may want opt for a rental. And if you are part of the wedding party, that's an entirely different story.
Cost-saving options include asking if the store rents the outfit your bride or groom selected, or checking out sites like Preowned Wedding Dresses, which has preowned bridal party threads.
Don't be shy about starting a private conversation with your friend about needing to stay on a budget. Just ask if they would be okay with you finding a very close match to the dress or suit.
Sign up for The Payoff — your weekly crash course on how to live your best financial life. Additionally, for all your burning money questions, check out Mic's credit, savings, career, investing and health care hubs for more information — that pays off.