Why was Bill O'Reilly fired from Fox News? Why the network broke ties with popular host.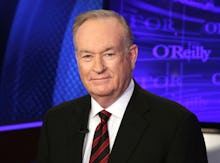 Bill O'Reilly was officially fired from his position with Fox News on Wednesday, according to a statement released by its parent company 21st Century Fox. 
The decision ultimately came, the company said, after a thorough internal review of the allegations against O'Reilly, despite the fact that he is their most popular anchor.
"After a thorough and careful review of the allegations, the Company and Bill O'Reilly have agreed that Bill O'Reilly will not be returning to the Fox News Channel," 21st Century Fox said in its statement.
Fox, however, only came to this decision following an in-depth report by the New York Times, which uncovered that both Fox and O'Reilly had paid about $13 million to silence five of his accusers since 2002. The allegations reached a boiling point in early April when Wendy Walsh, a frequent guest of The O'Reilly Factor, came forward and accused O'Reilly of reneging on a paid contributor job offer after she rejected his alleged advancements in 2013. 
Walsh, according to the Los Angeles Times, is not seeking a monetary settlement from Fox or O'Reilly, but instead came forward to set an example for her daughters.
"I started to notice this theme. Young women seemed to be strong, feminist and idealistic while the older women that I surveyed shrugged their shoulders and said, 'Oh I've had worse happen to me,'" Walsh told the Los Angeles Times. "That's when I saw this generational divide that really bothered me. I thought, 'You know what? These young women feminists are leading us and they're our daughters. We should be leading them.' So I really did it for my daughters."
Additionally, Fox may have pulled the plug due to hemorrhaging ad sales thanks to O'Reilly's scandal.
As Reuters reported, O'Reilly's show brought in $147.13 million in advertising revenue in 2016, according to ad-tracking firm Kantar Media. However, since the New York Times article's release, advertisers including BMW of North America, Allstate Corp, French pharmaceuticals maker Sanofi SA and T. Rowe Price have all pulled their advertising dollars from the show. In total, Forbes reported, 60 companies have pulled advertisements from O'Reilly's show.
"The allegations are disturbing and, given the importance of women in every aspect of our business, we don't feel this is a good environment in which to advertise our products right now," a Mercedes-Benz spokesperson told Forbes. Though no numbers are available yet as to how much Fox lost thanks to the mass advertiser exodus, the New York Times reported in a followup post that advertiser airtime on O'Reilly's show fell from more than 15 minutes in March to under seven minutes by April 7.
Firing O'Reilly may have been the only way to stop the bleed, and investors appeared to side with the decision to let the controversial host go. Shares of Twenty-First Century Fox Inc. were down less than 1% at $30.39 in Wednesday afternoon trading, according to Reuters. And as Brian Wieser, an analyst at Pivotal Research, told Reuters, Fox "could literally go dark during the time his program airs and they would still be profitable." He added that investors likely care more about Fox avoiding the negative headlines in the future. "That's bigger than O'Reilly," he said. "The cultural issue is a big issue."