Bill O'Reilly responds to Fox News departure — here's his full statement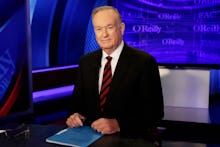 Fox News announced Wednesday it had officially terminated Bill O'Reilly's contract following weeks of negative headlines surrounding multiple allegations of sexual harassment against the television host.  
"After a thorough and careful review of the allegations, the company and Bill O'Reilly have agreed that Bill O'Reilly will not be returning to the Fox News Channel," the statement from the network's parent company, 21st Century Fox, read.
The termination of O'Reilly's contract happened to coincide with a preplanned family vacation. The news broke just hours after O'Reilly and his children met Pope Francis during his weekly audience in St. Peter's Square at the Vatican. From his trip, O'Reilly sent the following statement, shared by Dylan Byers on Twitter, regarding the termination of his employment: 
Over the past 20 years at Fox News, I have been extremely proud to launch and lead one of the most successful news programs in history, which has consistently informed and entertained millions of Americans and significantly contributed to building Fox into the dominant news network in television. It is tremendously disheartening that we part ways due to completely unfounded claims. But that is the unfortunate reality many of us in the public eye must live with today. I will always look back on my time at Fox with great pride in the unprecedented success we achieved and with my deepest gratitude to all my dedicated viewers. I wish only the best for Fox News Channel.