March for Science 2017: Here is a list of major cities participating Saturday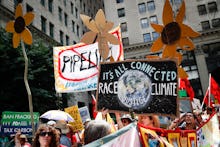 The global scientific community is not happy with president Donald Trump — and on Saturday, they're making their presence known.
Thousands of science lovers around the world are expected to gather in about 500 cities, including Washington, D.C., to protest what they describe as an attack on the concepts of scientific evidence and consensus.
Since taking office, Trump has reversed U.S. policy on climate change after previously calling it a hoax, even though the overwhelming majority of climate scientists say it's a very real threat.
"Policymakers threaten our present and future by ignoring scientific evidence when crafting policy, threatening scientific advancement through budget cuts and limiting the public's knowledge by silencing scientists," March for Science national co-chair Caroline Weinberg wrote on her campaign's website. "On April 22, scientists and science supporters will unite worldwide to protest these actions."
Here's a list of just some of the cities around the globe participating in Saturday's protest:
In the United States:
New York
Los Angeles
San Francisco
Philadelphia
Atlanta
Houston and Dallas
Cleveland and Columbus, Ohio
Chicago
Miami
Boston
Around the globe: 
Toronto
Paris
Berlin
London
Seoul, South Korea
Sydney
Madrid
Rome
Tokyo
Hong Kong
Kampala, Uganda
Quezon City, Philippines
Rio de Janeiro
Click here for a full list of participating cities.
The March for Science initiative is a cooperative partnership between more than 200 scientific and academic institutions as well as nonprofits, uniting to "defend the vital role science plays in our health, safety, economies and governments," according to the campaign's website.