Marijuana Legalization in the US: Here's how most Americans feel about legal weed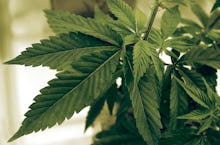 More people in the United States than ever before think marijuana should be legal, a new CBS News poll has found. 
Sixty-one percent of Americans are in favor of legal weed, up five points from 2016. What's more, a vast majority of people — 88% — are in favor of medical marijuana.
Bipartisan support for legal weed
Despite Attorney General Jeff Sessions' threat to crack down on states that have legalized marijuana in one form or another, support for legal weed is fairly steady across party lines. Among Republicans, 63% oppose the federal government trying to stop states from allowing marijuana use, while 76% of Democrats and 72% of independents do.
Sessions has said he believes marijuana causes "real violence," but most Americans disagree, CBS found. Of those surveyed, 49% said they think legalizing weed won't have any effect on violent crime, while 22% said they think legalizing marijuana will actually reduce violent crime.
While support for legalization has risen across all age groups, millennials are most in favor of legalizing weed, while those older than 65 are most opposed. Over three quarters of those 18 to 34 favor legalization, while around 60% of those 35 to 64 do. 
Millennials like weed most, seniors least
Most people under 65 say they've tried marijuana, while only a quarter of those over 65 say they have have. Most men have tried it, while most women say they haven't.
CBS has been polling Americans on their views on marijuana since 2013. A majority first backed legalization in 2014.
Twenty-eight states have legalized medical marijuana in some form, while nine states have legalized recreational use. Marijuana is still illegal under federal law.