13-year-old girl charged in suicide-text prank that reportedly caused boy to kill himself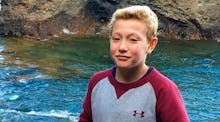 The text message-related child suicide of 11-year-old Michigan boy Tysen Benz has compelled a local prosecutor to file criminal charges against his alleged "friend" to motivate parents to pay more attention to how their kids use social media.
Benz died on April 4 after attempting to hang himself on March 14, according to a Michigan NBC News affiliate.
His mother, Katrina Goss, told CNN her son's suicide happened because a 13-year-old girl he considered his girlfriend texted him lies about killing herself.
Marquette County prosecuting attorney Matt Wiese is now charging that girl with malicious use of a telecommunication device and using a computer to commit a crime, both misdemeanors with respective max penalties of one year and six months in jail, according to NBC.
"I want to stress that the death of Tysen is not what we're prosecuting here," Wiese told NBC. "We wanted to get the message out there to the community and to parents to be more active and proactive in knowing where their children are going when they're on social media platforms."
Goss told Buzzfeed News her son was "the happiest, most joyous child," until he met the accused 13-year-old.
"She was mean to him, controlled him and took advantage of him," she said. "Even after I repeatedly told her to leave him alone."
Benz remained on life support for weeks before ultimately succumbing to his suicide-related injuries, CNN reports. His funeral took place on Tuesday and the family's GoFundMe page has raised more than $40,000.
Goss told reporters she didn't feel the charges against the teen girl were severe enough, but Wiese said they are appropriate.
"Telling somebody they should go do something to themselves is not a crime, even if they go through with it," he said, according to CNN.