Bose Lawsuit: What is the Wiretap Act, and how could Bose be breaking the law?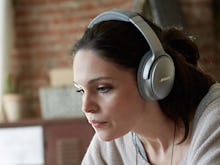 Companies are going to greater and greater lengths these days to spy on their customers' and, apparently, the Bose Corporation is no exception.
A new lawsuit is accusing the headphones maker of using its Bose Connect smartphone app, which works with its QuietComfort 35 wireless headphones, to listen in on their customers and track their music preferences.
Reuters reported that Kyle Zak on Tuesday filed a federal complaint against Bose in Chicago. He is seeking class-action status on behalf of "tens of thousands" of projected Bose Connect users. His lawyers claim the app violates the federal Wiretap Act by eavesdropping on users while they're using their headphones, according to the Chicago Tribune.
What is the WireTap Act?
The Wiretap Act is a provision of the Omnibus Crime Control and Safe Streets Act of 1968, according to the U.S. Justice Department's Office of Justice Programs. It was designed to generally protect Americans' privacy when communicating with other people.
In addition to governing law enforcement wiretaps and related warrants, the Justice Department says the Wiretap Act "prohibits the unauthorized, nonconsensual interception of 'wire, oral or electronic communications,' by government agencies as well as private parties."
Why should you care?
Zak's attorneys claim the Bose Connect has significant privacy implications.
"[The Bose Connect app] can identify [users'] social circles, their sexual identity, political groups," founder and CEO Jay Edelson of the class action law firm Edelson PC told the Chicago Tribune. "These are things that people like to keep private, and the allegation of our suit is that if Bose was going to be collecting that, they had to get consent," he added.