9 things to get rid of to simplify your life — and save money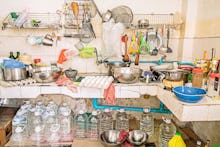 Imagine a world where you don't stumble over 10 pairs of shoes crowding your front door or frantically search for a single document hidden beneath 30 pieces of paper. Too much stuff can literally cost you if you can't find receipts at tax time, for example — or you need to pay to rent storage for all your old furniture and random boxes of knick-knacks.
Paper, clothes and sentimental objects are top clutter offenders — and it's okay to start small and log a "win" first to gain momentum: "The best place to start is with the area that gives you the most pain," said organization expert Andrew Mellen. "Perhaps the garage is giving you the most stress, so if you are feeling strong, tackle it. Otherwise, start with a junk drawer if you aren't up for the garage that day, but do whatever is going to lead you to success."
When organizing, make sure every item has a home, put "like" things together (if you keep your slippers with your other shoes, they will be easier to find) and when you buy something new, make sure another object goes out. "Once you have everything you need and it fits in the provided space, don't keep adding, but rather swap out an old item to make room for the new item," Mellen said.
Making a few adjustments and purging unwanted stuff can not only be freeing, it can put more money back in your pocket. Here's how to take a few steps towards simplifying your life. 
1. Shred unnecessary papers
Wouldn't it be freeing to eliminate old paperwork and files you've been carrying around for years? While there are some documents you should maintain, some paperwork can be shredded or maintained digitally, according to Consumer Reports.
What to keep forever? Marriage license, birth and death certificates, divorce decree, military discharge papers, Social Security cards and life insurance and insurance estate planning documents.
One item you should keep for about seven years is your tax records if you didn't report more than 25% of your gross income on your returns. Other documents that you can shred after a year include bank and credit card receipts and old insurance and investment statements (replaced by new ones). You'll also want to hold onto any loan documents until the loan is paid off.
2. Say goodbye to storage spaces
Unless you are storing priceless works of art, that self-storage space is killing your budget and keeping clutter in your life. A 10-by-10 non-climate-controlled storage space will set you back about $127 per month. Want something with heating and cooling? That'll be $159 per month, USAToday reports.
Think of it this way: If you ditch your space you can retain the amount you pay each month for the unit. Plus you can sell items using an online app, consignment store or an online marketplace, suggests Clark Howard. If you donate your stuff, don't forget to take that tax deduction on your 2017 taxes. 
Feeling strapped for time? After all, shutting down a storage space will mean carving out hours to move the stuff — whether you're donating it or finding space for it in your house, basement or garage. So be strategic: Instead of making your goal to "finish" a task, assign a time limit. "You will have far more success working on the garage for three hours rather than telling yourself to just 'clean the garage' and finish today," Mellen said.
A good rule of thumb is to work no less than 15 minutes and no more than three hours at one time. "If you are really feeling fierce, work the three hours and then take a 15 minute break before going back in again," he said. "This will give you time to clear your head and see the area in a new light." 
3. Downsize your pantry
Take the pantry challenge and clean out your pantry, freezer and fridge by eating what's on the shelf. Jessica Fisher, author of the "Good Cheap Eats" blog told ABC News she slashed her $1,200 monthly grocery bill to $550 by eating what was in the house.
At first glance you may think you are going to die a slow carb death, you can use apps like BigOven, Yummly or SideChef to enter ingredients you have to create recipes you never thought were possible. Make sure produce, dairy and meat is fresh before consuming and toss if it's outdated.
4. Minimize bank accounts
Juggling more than one checking or savings account can actually be a big time suck over the years, and multiple accounts could be costing you money if your any of them have unnecessary fees. For most millennials, one checking and one high yield savings account is all you need, suggests Money.
Select a free checking account for everyday transactions including paying bills and accepting direct deposit. A high-yield savings account can also double as your emergency fund, so an accident or a trip to the car mechanic doesn't put you in debt.  Avoid overdraft fees by linking your savings to checking or finding a top-notch bank account — with low fees and high interest payments.
While you're at it, consider setting up automatic transfers into savings — just like you (hopefully) already have for your 401(k) or Individual Retirement Account, which will make it more likely you'll reach your retirement goals: A regular transfer of just $100 per month when you're 25 could put about $330,000 in your retirement account by the time you reach age 65 (assuming an 8% annual return), Monster calculates. Don't forget to ask HR about an employer match to give your contribution even more of a boost.
5. Admit you'll never wear that outfit again
We all have that pair of "skinny jeans" that are kept in the depths of the closet because someday those jeans are going to fit again. And it's been 10 years.
With too many "goal" clothes, your closet may be stocked with excess to the point where purging will not only streamline your style but help you make some extra cash. Items to consider dumping include duplicates, clothing you've never worn, pieces from your past (such as old college t-shirts), clothes that will never fit and ripped or trashed items, suggests Cosmopolitan.
A number of apps like thredUP or Poshmark can help you quickly and easily sell your gently or never been worn items.
6. Ditch gadgets taking up space
Bought that bread maker with the best of intentions, but you've used it once and it's consuming 15% of your counter space? Gadgets you don't use only create more clutter in your living space and can be leveraged for cash.
Whether it's a collection of old iPhones or a treadmill, purging your home of  unwanted items can be physically and financially freeing.
Craigslist and eBay are easy ways to sell your stuff, or you can try apps like Gazelle or NextWorth, which purchase Apple products. You can also trade electronics for credit or make a donation to a local charity — remember, donations can be tax deductible.
7. Cancel subscriptions you don't use
Not all clutter is physical. From the gym membership you've never used to the gaming subscription you stopped playing, purging unused subscriptions can add more money to your wallet and relieve you of the guilt you experience paying that monthly fee.
Stay vigilant of "free" subscriptions too that provide a service for a limited amount of time but then charge a fee on your credit card. If you aren't using your Amazon Prime subscription or watching Hulu or Netflix, make sure you cancel the service. And, at the least, swapping cable for cheaper services could save you hundreds of dollars. 
8. Cut down on your stack of credit cards
Although having more than one credit card helps to raise your credit score, debt on several cards can be a detractor to creditors, according to CreditCards.com. If you are struggling with credit card debt, especially on a number of cards, consolidate debt onto a single card or loan. That doesn't mean you should cancel other credit card accounts, unless the card has a hefty annual fee, because closing the account can negatively impact your credit score — just put any excess cards in a drawer and don't use them anymore.
How do you consolidate debt? Depending on your situation, you might consider a low-interest credit card, a debt consolidation loan or a home equity loan, the Consumer Finance Protection Bureau suggests.
If you consolidate debt onto a single credit card, scrutinize the terms, including promotional interest rate offers and balance transfer fees. The same advice holds true for a debt consolidation loan as the CFPB says some have a "teaser rate" and hidden costs.
If you opt for a home equity loan, understand it lowers your home's net worth, so be sure you are confident about making monthly payments.
9. Eliminate "multitasking" from your vocabulary
Of course you can take a phone call while sending an email and typing a report, but does this behavior save you time — or just create chaos, stress and higher rates of errors? The intention to do several tasks at once doesn't maximize our time, but instead makes us less productive.
How can you make the most of your time? Block out time for work only and establish a time during the day when you concentrate on a certain task, according to the Chicago Tribune.
Also, if you can eliminate distractions and take regular breaks from technology, you may improve focus. More productive days mean you can actually finish work earlier — and use your free time any way you choose.
Sign up for The Payoff — your weekly crash course on how to live your best financial life. Additionally, for all your burning money questions, check out Mic's credit, savings, career, investing and health care hubs for more information — that pays off.