Scott Brown: Trump taps former Republican senator as ambassador to New Zealand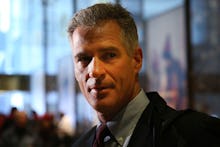 President Donald Trump will nominate former Massachusetts Sen. Scott Brown for ambassador to New Zealand. Like Cabinet members, ambassadors require Senate confirmation — so, assuming the Senate does confirm him, it could be months before Brown assumes his post.
The Boston Globe reported in February that Brown was under consideration for the job. Earlier speculation put Brown, a 35-year veteran of the Army National Guard, on track to become secretary of Veterans Affairs, a Cabinet-level position, but Trump ended up nominating David Shulkin for the post.
Brown was an early Trump supporter
Brown endorsed Trump during the Republican presidential primary. Brown's endorsement came at an especially critical time for Trump, one day after he lost the pivotal Iowa caucuses to Sen. Ted Cruz. Trump went on to win the New Hampshire primary.
Brown was elected to the Senate in a 2010 special election to fill the vacant seat left by the death of Democratic Sen. Ted Kennedy. His term lasted until 2013, when he was ousted by Elizabeth Warren.
He's lost twice to Democratic women
Brown then moved to New Hampshire, where he unsuccessfully attempted to unseat Sen. Jeanne Shaheen to become the first-ever national candidate to lose two straight Senate races to two different Democratic women.
In New Zealand, the reaction to Brown's nomination was tepid. The New Zealand Herald, a leading Kiwi newspaper, described Brown as "a former nude model who supports waterboarding."
Brown posed nearly nude for Cosmopolitan in 1982 after winning the magazine's "America's Sexiest Man" contest.