'Mario Kart 8 Deluxe' Review Roundup: See what the critics say beyond Metacritic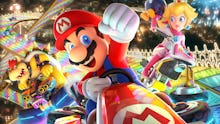 Mario Kart 8 Deluxe reviews are upon us, and while the critics have been hitting Rainbow Road, we've also been putting the game through its paces in the Mic offices. The verdict? The revamped racer has been getting overwhelmingly positive reviews, with only a few concerns overall. 
Until we're ready to share our thoughts on the game, we've gathered some of the other critics' conclusions on Mario Kart 8 Deluxe. This way you don't have to look all over the internet to get a feel for how the game's performing. Spoiler alert: It's doing fantastically. This is definitely going to be the racer you play all summer on your Switch. Here's our Mario Kart 8 Deluxe review round-up. 
Mario Kart 8 Deluxe Reviews: Review round-up
The response to Mario Kart 8 Deluxe so far has been overwhelmingly positive, with the embargo on scored reviews having lifted today. 
Kallie Plagge of GameSpot praised the game's alterations to the original, calling the overhaul a "chaotic, varied opportunity to play very differently than in Grand Prix mode" and advising that it's "well worth reinvesting yourself in Mario Kart 8 on Switch." Plagge scored the game 9/10 in her review. 
Mike Minotti of GamesBeat was excited by Nintendo's bolstering of the extra features in-game rather than making the decision to release a feature-deficit port: "This is how you spiff up an older game. What could have been a cynical attempt to double-dip into Nintendo fans' wallets actually turns out to be the Mario Kart series' definitive entry." Minotti scored the game 90/100 in his review. 
IGN's Jose Otero is still enamored with the game in the same manner he was when it first made the scene on Wii U. "Mario Kart 8 Deluxe is an amazing game for all the same reasons I mentioned in our original review," he said. "It's still a gorgeous kart racer and every bit as addictive as it was in 2014. This is the best entry in the series so far, and it has all the content you'll need." He awarded the game 9.3/10 in his review. 
Destructoid's Chris Carter praised the game as even better than the original Mario Kart 8, noting that it's "straight-up a better version of the game without compromise." He contended that, with "Battle Mode firmly in place, it's one of the best kart racers ever made."
Mario Kart 8 Deluxe Reviews: The Bottom Line 
Mario Kart 8 Deluxe has received almost universal praise on its first real post-embargo day, and that looks great for the kart racer's upcoming release on Nintendo Switch on April 28. We'll make sure to let you know what we think of the game soon as well. Until then, be sure to check out our continuing Mario Kart 8 Deluxe coverage!
Check out more Mario Kart 8 news and coverage
If you're anxious to get racing in Mario Kart 8 Deluxe, check out our video gameplay of the first 20 minutes of the game and find out the characters the game needs ASAP. Learn how you can buy the game bundled with the console, including one bundle from Nintendo and see every level packed inside the game. Or play Mario Kart 64 on a newer console instead, if you're looking for a nostalgia fix.