Jeff Sessions: Hawaii Senator claps back at "island in the Pacific" comment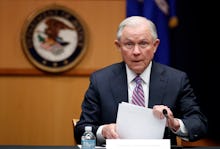 United States Sen. Mazie Hirono (D-Hawaii) didn't like what U.S. Attorney General Jeff Sessions had to say about the state she represents on Capitol Hill, and she's giving him the business on Twitter in response.
In an interview with conservative radio host Mark Levin released on Wednesday, Sessions attacked Hawaii U.S. District Judge Derrick Watson for issuing a court order blocking the Trump administration's Muslim travel ban in March.
"I really am amazed that a judge sitting on an island in the Pacific can issue an order that stops the president of the United States from what appears to be clearly his statutory and constitutional power," Sessions said.
An "island in the Pacific"? What did Sessions mean by that?
Sessions, himself a former U.S. senator from a "state in the south," — also known as Alabama — has yet to clarify his comments, but they rubbed Hirono the wrong way and on Thursday she fired back on Twitter.
"Hey Jeff Sessions, this #IslandInThePacific has been the 50th state for going on 58 years," the senator tweeted, "and we won't succumb to your dog whistle politics."
Hirono's Twitter tirade didn't end there.
She pointed out that Sessions actually voted in favor of Watson becoming a federal judge back when Watson was being confirmed by the U.S. Senate.
Hirono's fellow U.S. senator from Hawaii, Brian Schatz, joined her in the digital fray. 
The 69-year-old Hirono has good reason to take exception to the Trump administration picking on immigrants.
At age 7, she herself became a naturalized American citizen in 1959, the same year Hawaii became a state. Her mother fled their native land in Fukushima, Japan with Hirono and her older brother to "escape" Hirono's father, who her official bio describes as an "alcoholic" and "compulsive gambler."
Hirono was elected first to the House of Representatives in 2006 before moving on to replace the retired Daniel Akaka in the U.S. Senate in 2013.
"I never forget where I came from or who I fight for and why," Hirono's bio states.