Cuba Gooding Sr. Dead: Here's what we know about father of Cuba Gooding Jr.'s death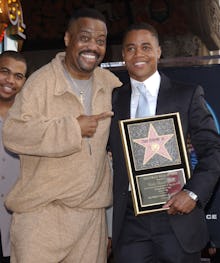 Beloved soul singer and Hollywood dad Cuba Gooding Sr., 72, father of Academy Award winner Cuba Gooding Jr. and his brother Omar Gooding, was found dead in his car Thursday afternoon from a suspected drug overdose, according to multiple sources.
Police told TMZ that fire department officials found an unresponsive Gooding Sr. around 1 p.m. local time, slumped over in his silver Jaguar, which was parked on a busy street in Woodland Hills, California.
"Empty booze containers" and drug paraphernalia were found in the vehicle, multiple sources confirm.
Officials performed CPR on Gooding Sr., but were unable to revive him, according to TMZ.
Music career
Gooding Sr. was more than just a Hollywood dad.
He became the lead singer of '70s band The Main Ingredient in 1971. A year later they released their smash hit "Everybody Plays the Fool." Gooding Sr.'s band also had commercial success with gold singles like "Just Don't Want to Be Lonely," "Happiness is Just Around the Bend," and "Rolling Down a Mountainside."
Proud papa
Gooding Sr.'s eldest son, Cuba Gooding Jr., didn't have to live in his famous father's shadow for very long.
He got his big break in Hollywood in 1991 at the age of 23 starring in the Academy Award-nominated Boyz in the Hood. Six years later, Gooding Jr. himself won an Oscar for his supporting role in Jerry Maguire, thanking his dad and mom during his classic Oscar acceptance speech.
Gooding Jr.'s little brother, Omar Gooding, first starred on Nickelodeon's Wild & Crazy Kids in 1991, also starring in sitcoms like Hangin' with Mr. Cooper, and Smart Guy, before his 2001 breakout film role in director John Singleton's Baby Boy, according to the actor's IMDB page.
Gooding Jr. went through a slump later in his career, but his dad never cared, telling ET he was "very proud" of both his sons' success at the 2002 premiere of Gooding Jr.'s Snow Dogs.
"I lie to him and tell him it was great, no matter what he does," Gooding Sr. told ET.
Celebrity reactions
After finding out about his dad's tragic death yesterday afternoon, Gooding Jr. was seen looking somber on the set of his latest movie, TMZ reports.
Several fellow famous people offered their condolences on Twitter to Gooding Sr.'s family.