Julian Assange: What would charging WikiLeaks with espionage mean for press freedom?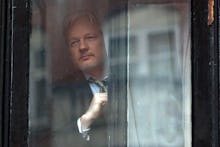 You might not like Julian Assange.
You might consider him dangerous. You might regard him as a self-aggrandizing nuisance. You almost certainly at least partially acknowledge his role in getting President Donald Trump elected over Hillary Clinton.
And you may not be wrong to feel that way.
But, like it or not, the WikiLeaks founder may soon be the face of one of the most significant First Amendment battles in United States history — and its outcome could set a dangerous precedent for press freedom in the Trump age and beyond. 
U.S. reportedly preparing charges against Assange
Attorney General Jeff Sessions on Thursday suggested to reporters that the United States was preparing charges against Assange. 
"We've already begun to step up our efforts and whenever a case can be made, we will seek to put some people in jail," Sessions said, describing Assange as a "priority" for the U.S. "This is a matter that's gone beyond anything I'm aware of."
The remarks follow news that U.S. intelligence has launched a manhunt for a C.I.A. "insider" who leaked classified documents to WikiLeaks, which C.I.A. Director Mike Pompeo recently described as a "non-state hostile intelligence service often abetted by state actors like Russia." 
Assange — who has been in asylum at the Ecuardorian embassy in London for the past five years — responded by accusing Pompeo and the U.S. government of trying to "stifle speech."
"Director Pompeo's statement sought not only to threaten Mr. Assange and WikiLeaks," according to a statement, "but to definitively subvert the First Amendment and fundamental notions that are intrinsic to American democracy."
What would Assange charges mean for press freedom?
A potential case against Assange would hinge on whether his classified document dumps are protected by the First Amendment or if they are violations of the the Espionage Act of 1917. 
The U.S. has never successfully prosecuted a journalist using the act, but its vague wording makes its limitations unclear, according to the nonprofit Reporters Committee for Freedom of the Press. 
"The Espionage Act is so vague and poorly defined in its terms, that it's hard to say exactly what it does and does not cover," Steven Aftergood, director of the Project on Government Secrecy for the Federation of American Scientists, told the RCFP. 
Though the Obama administration — which was criticized by some who claim it "undermined" freedom of the press —  had charged government leakers like Edward Snowden and Chelsea Manning under the Espionage Act, it declined to do so against Assange because of the implication it would have for journalists.
"The problem the department has always had in investigating Julian Assange is there is no way to prosecute him for publishing information without the same theory being applied to journalists," former Justice Department spokesman Matthew Miller told the Washington Post in 2013. "And if you are not going to prosecute journalists for publishing classified information, which the department is not, then there is no way to prosecute Assange."
But the Trump administration appears to feel differently — though Trump has praised Assange in the past, his administration seems poised to go after the WikiLeaks founder for leaks going back to 2010. 
That could be devastating for freedom of the press, according to critics — regardless of how you feel about Assange and WikiLeaks.
It would mark the first time a publisher has been prosecuted for providing factual information to United States citizens, American Civil Liberties Union attorney Ben Wizner told Wired, and could set a precedent the government could use to limit the free speech of media organizations — potentially resulting in prior restraint for journalists considering publishing sensitive or critical work.
"Any prosecution would be incredibly dangerous for the First Amendment and pretty much every reporter in the United States," Trevor Timm, executive director of the Freedom of the Press Foundation, told Wired. "You can hate WikiLeaks all you want, but if they're prosecuted, that precedent can be turned around and used on all the reporters you do like."