'Call of Duty WW2': Next 'CoD' confirmed, release date reveal and trailer expected soon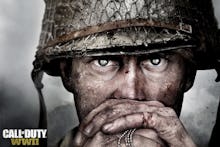 Call of Duty is returning to World War II for its next iteration, as Activision just let loose the name of the next game in the first-person shooter series. Call of Duty: WW2 is the next title in line from Sledgehammer Games, according to a new press release from Activision.
Call of Duty: WW2: First details and official reveal
As evidenced by its succinct subtitle, Call of Duty: WW2 will take place during World War II, the time period in which the original Call of Duty (2003) took place. In fact, up until Call of Duty 4: Modern Warfare, each subsequent game in the series took place during World War II. The original game and several of its sequels were excellent in their own right, and the Modern Warfare, Advanced Warfare and Infinite Warfare have been blockbuster affairs with their own kind of fast-paced, frenetic combat. 
It'll be exciting to see Sledgehammer Games take the series back to the time period that arguably worked best for Call of Duty and try a series of (hopefully) new mechanics to spice things up anew. 
Electronic Arts' Battlefield series recently went back to basics with Battlefield 1, so it's not that surprising to see the other leading shooter franchise taking a page out of the same playbook. Frankly, it's nice to see an uncomplicated subtitle this time around as well, just nice and simple: Call of Duty: WW2. 
Call of Duty: WW2: Release date and trailer may be in upcoming livestream
According to Activision, additional information and possibly a trailer will be revealed during an official livestream next Wednesday, April 26. Interestingly, there was no projected release date for the upcoming shooter. Historically, several Call of Duty titles have launched in November, though it's not certain at this point if this release will follow suit. Additionally, no platform confirmations were given. 
Hopefully, at this point in the Call of Duty franchise, we'll see some reinvention happening, or a killer campaign mode that could even outshine the always-prosperous multiplayer mode. We'll report more next week when the official unveiling happens. 
More gaming culture and criticism
Check out the latest from Mic, including our deep dive into how female Overwatch players are dealing with online harassment, an article about a fan movement advocating for more same-sex romance options in Mass Effect, a personal essay about JonTron written by a fellow Iranian-American and an article looking at cultural diversity in Overwatch.