Who is Aya Hijazi? Here's why the US charity worker spent 3 years in an Egyptian jail.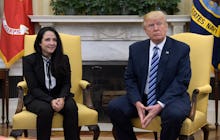 At the White House on Friday morning, President Donald Trump shook hands with a recently-freed, Egyptian-American woman who spent almost three years in a foreign prison with rumored ties to the Muslim Brotherhood.
Her name is Aya Hijazi, and her attorney credits Trump for securing both her freedom and return to the U.S.
"I think Trump and his team deserve credit for making this a priority at the most critical time in her case," attorney Wade McMullen told NBC News.
The Washington Post noted Hijazi was released this week after a Sunday courtroom acquittal in Egypt, which was preceded by months of backroom negotiations between Trump administration officials and reps for Egyptian President Abdel Fattah el-Sissi who visited the White House earlier this month.
It all seems like something that would make Steve Bannon and Alex Jones' heads explode.
"We are very happy to have Aya back home," Trump told reporters Friday after refusing to answer questions about the matter. "It's a great honor to have her in the Oval Office with her brother."
Who is Aya Hijazi?
Hijazi, 30, has dual citizenship in the U.S. and Egypt. She spent her childhood in Falls Church, Virginia and earned her B.A. in conflict analysis and resolution from George Mason University in 2009 before moving to Egypt with her husband and founding the Belady Foundation, a group that aids "marginalized street children."
Why was she locked up?
Egyptian authorities raided Hijazi's charity in May 2014, accusing her of "human trafficking, kidnapping, sexual exploitation and torture," according to the Chicago Tribune. Egyptian authorities claimed a local man accused Belady of kidnapping his son, according to imprisoned journalist Omar Hazeq of Egypt's Mada Masr independent online newspaper. 
Progressive groups in Egypt like Human Rights Watch have long advocated for Hijazi's release, arguing her charges were a "travesty" meant to crack down on progressive democratic groups and those with perceived ties to the Muslim Brotherhood.