Obama's photographer Pete Souza called out Sarah Palin for White House photo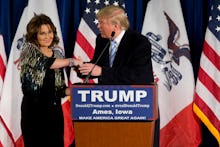 Pete Souza, former White House photographer for Barack Obama, is calling out President Donald Trump and his friends in yet another Instagram photo.
Since Obama transitioned out of power in January, Souza hasn't been shy about trolling Trump and his entire administration on his wildly popular social media accounts. As Mic previously reported, Souza's jabs began subtly enough with the below photo pointing out the different interior design aesthetics between Obama and Trump:
The caption simply reads "I like these drapes better than the new ones. Don't you think?"
Over time, more and more of Souza's posts were pointed at Trump and at comments made by members of his administration. In March, for example, when White House counselor Kellyanne Conway insinuated that Obama may have attempted to spy on Trump through microwaves, Souza shared a photoshopped image of Obama inside a microwave with the caption "Someone has been photoshopping one of my photos."
Now, the photographer is directly calling out the behavior of Trump and several of his recent guests at the White House.
On Wednesday, former vice presidential nominee Sarah Palin shared a photo on Facebook of herself alongside Ted Nugent and Kid Rock from their recent visit to the White House. In the photo, the trio can be seen smiling and giving a thumbs up in front of a portrait of Trump's political rival, Hillary Clinton.
The photo quickly spread on social media, outraging many. "What a bunch of disrespectful idiots," one Facebook user wrote beneath Palin's photo, as the Washington Post noted. "You call yourselves proud Americans and behave like 3rd graders in the White House. I don't care if you like her or not. You are disrespectful."
For his part, Souza kept it much simpler, uploading the photo below to Instagram with the caption "being respectful":
However, Souza's own photo came with equal criticism from followers. One user commented, "I suppose you've forgotten the Obama era photos of people standing in front of this same portrait of Reagan and flipping the bird.... How terribly inconvenient for your purposes that others of us remember," referring to the 2012 photo of two gay activists attending attending the White House's LGBTQ Pride Month reception and extending their middle fingers in front of President Ronald Reagan's portrait.