Uber employees spray #Undelete Uber artwork on the tail of sexual harassment accusations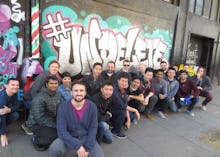 To put it simply, it's been a rough year for Uber... and it's only April.
The ride sharing service repeatedly found itself in hot water over the last few months as scandal after scandal unfolded. Things all kicked off in January after President Donald Trump signed the now infamous travel ban in an attempt to block travelers from seven Muslim-majority nations.
In response to the ban, taxi drivers in New York enacted a temporary strike as a show of solidarity with protesters. The New York Taxi Workers Alliance additionally called for all drivers, including those working for ride sharing apps, to join the protest. However, Uber chose instead to simply suspend surge pricing at JFK, which many saw as Uber's attempt to profit off protest, which then led to the hashtag and movement #DeleteUber.
Since then, Uber has been plagued by even more salacious scandals including claims of a toxic workplace environment and rampant sexual harassment against female employees, which only added fuel to the #DeleteUber fire. So to fix its problems, Uber decided to have its employees come together and spray-paint #Undelete on a wall in San Francisco.
In photos that are currently spreading throughout the internet, a group of mostly male Uber employees can be seen heartily smiling in front of their day's artistic work, which the Verge reported was created about a week ago.
According to New York Magazine, the mural was created in partnership with 1 AM — short for First Amendment — a San Francisco-based group that "represents the freedom of speech through our urban art exhibitions, public murals, and experiences."
Perhaps Uber should stick to performing uncomfortable trust falls at their next company outing like the rest of us.