How much money do 'The Amazing Race' contestants make?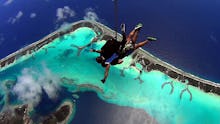 If you have a penchant for heart-pounding adventure in some of the most gorgeous places in the world, The Amazing Race may be your ticket. Not only do you experience extreme physical limits, you'll get paid to go on the adventure.
Now in its 29th season, The Amazing Race has taken contestants and viewers to wild destinations, challenging partners to complete daring feats like skydiving in Bora Bora, bungee jumping in New Zealand and eating a 1,000-year-old egg in Thailand. In the current season, complete strangers got paired up together and have traveled everywhere from Zanzibar to Norway.
There's also some serious cash involved: The first two-person team to arrive at the final destination wins the $1 million prize. Here's what to know about the total payouts for all contestants.
Does everyone make money?
It's not just the winners who make money. Fan site TARflies reports that Aaron from Season 6 spilled the beans on how much everyone else earns, with the second place team raking in $25,000, followed by $10,000 for third, with prizes gradually dwindling down to $1,500 for the last place team. A representative for CBS declined to comment to Mic on runner-up pay. 
Season 21 contestant Mark "Abba" Abbattista told A.V. Club that he also received an undisclosed amount of money just to be on the show. "It's certainly not 'paid,' but you get some kind of money for the order that you come in. If you're not on food stamps, you wind up losing money on it."
In addition to cash prizes, contestants can also compete to win trips, cars, cash, cruises, even gas at certain legs of the trip. Abbattista and teammate James LoMenzo won trips to Antigua and Malaysia. Trips cover airfare, hotel and a few incidentals like snorkeling and massages. Not food though!
Who pays for what?
During taping, the show provides each team with up to $500 for each leg of the race to spend on food, lodging, travel guides, taxis or any other incidentals, TARflies Times reports.
If you don't use all your money during one leg, it rolls over to the next. (There are typically 12 legs in each season.) Contestants must book their own flight tickets for each leg of the journey (using the production crew's credit card), but the price cannot be more expensive than a coach ticket.
One of the biggest costs for contestants is having to take a sabbatical from their job, which is why the show might be most attractive for new college grads or retirees, Abbattista told A.V. Club. For those with "normal" jobs, asking for time off can be tricky since you won't know where you are headed or the amount of time you'll be filming, although Abbattista said he was gone for about a month.
Do you have to pay taxes on prizes?
Monetary winnings must be claimed on your federal income tax return under "Other income", according to the IRS. 
And remember, it's not just cash prizes that get taxed. Winners also have to pay taxes on the monetary value of any trips or cars they are awarded, too.  "Of course, if you win the [prize] money, you can use the money to pay the taxes, and if you win a car, you can sell the car, which I think a lot of people do," Abbattista told A.V. Club.
Contestants are free to opt out of the prizes, however, since they aren't really free. "Sometimes it's a good idea to just turn down a prize if it's not money, and if it has the possibility of becoming a tax burden" NerdWallet advises.
The good news, however, is that none of the paid travel that contestants do during the Race counts as taxable income.  And if they win the big prize, giving a chunk of the winnings to Uncle Sam may very well seem like a small price to pay for the adventure of a lifetime.
Sign up for The Payoff — your weekly crash course on how to live your best financial life. Additionally, for all your burning money questions, check out Mic's credit, savings, career, investing and health care hubs for more information — that pays off.